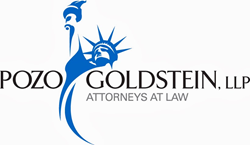 Miami, FL (PRWEB) October 07, 2014
Pozo Goldstein, LLP is proud to announce the addition of new associate attorney, Teresita Rodriguez, to the firm. Teresita is a long-time employee of the firm, having begun as a receptionist many years ago. She became a paralegal, worked her way through college and law school while still employed at Pozo Goldstein, LLP, and has recently passed the Florida bar exam.
The firm is eager to further utilize Attorney Rodriguez in her new role, as she brings both personal & professional experience. She is the daughter of two immigrant parents from Cuba who escaped Fidel Castro's regime, so she understands firsthand the significance of immigration cases and their effect on families. Teresita graduated from Florida International University with two Bachelor's degrees in Political Science & Health Science, as well as minors in Economics, International Relations, Psychology, and Health Services Administration. She received her J.D. from Nova Southeastern University's Shepard Broad Law Center. In addition to her immigration experience at Pozo Goldstein, LLP, Teresita was also extremely active in student groups that focused on immigration & international law.
To learn more about Attorney Rodriguez and the legal team at Pozo Goldstein, LLP, visit their website at http://www.pozogoldstein.com.