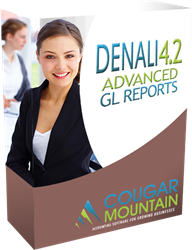 Cougar Mountain Software continues to deliver comprehensive accounting software needed to grow a business and protect financial information and resources.
Boise, ID (PRWEB) October 08, 2014
This week, Cougar Mountain Software released the latest version of their Denali Accounting solution. This version, Denali 4.2 Advanced GL Reports, includes updates to all their product lines. In addition to Advanced GL Reports, you can use a touch screen and gift cards for retail sales as well as expedite order entry. Payroll is enhanced to include the ability to copy, renumber, and import or export employees, generate the Taxable Wage Report, and track costs for projects with Project Codes.
"Denali 4.2 Advanced GL Reports contains significant enhancements to many areas of Denali Accounting," states Ann Geisel, Product Owner at Cougar Mountain Software. "We have extended the comprehensive library of reports and also offer additional fields on some reports. In addition, we have strengthened the internal controls and fraud detection capabilities of Denali with the availability of Red Flag Reports in the Controller. The Red Flag Reports will help organizations, especially nonprofit organizations, spot inconsistencies or missing information that may lead to instances of embezzlement or theft."
Dave Haworth, Cougar Mountain Software Executive Vice President, adds "Denali 4.2 also includes enhancements to the Point of Sale system. The user interface can be customized with touch screen buttons, inventory integration, unlimited drill down capabilities, and the use of gift card transaction with Merchant Warehouse's Genius™ Customer Engagement Platform™."
"Denali 4.2 Advanced GL Reports is a significant release for Cougar Mountain Software, our customers, and organizations maturing up from lightweight and inadequate accounting software." states Chuck Gossett, CEO of Cougar Mountain Software. "Cougar Mountain Software continues to deliver to the small and medium-sized businesses the comprehensive accounting software that they need to grow their business and protect their financial information and resources."
About Cougar Mountain
Cougar Mountain Software has provided business accounting, nonprofit accounting, and point of sale software solutions to thousands of retail, wholesale, nonprofit, and service-based businesses around the world. Our 32 years of success comes from two key practices: employing in-house accounting and business professionals for our sales, support, training, and development teams, and listening to our clients. Our team of business and accounting experts provides our customers with the personalized service they need to make the right decisions about their accounting solution.