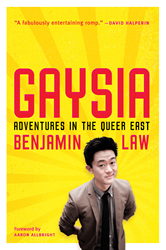 (PRWEB) October 08, 2014
The Rainbow Book Award is an annual book award that recognizes excellence in LGBT literature. This year, two Cleis Press titles are finalists. Gaysia: Adventures in the Queer East by Benjamin Law is a finalist for LGBT General Nonfiction. Foolish Hearts: New Gay Fiction edited by Timothy Lambert and RD Cochrane is a finalist for LGBT Anthology/Collection.
Gaysia
Adventures in the Queer East
By Benjamin Law
Benjamin Law spent nearly a year skipping between seven Asian countries, sitting backstage with Bangkok ladyboys before their beauty pageants, talking to Tokyo's superstar drag queens, marching in the heat with Mumbai's fierce queer rights activists, listening to Melaka preachers who claim they can heal homosexuality and hanging out with Bali's moneyboys and the foreigners who hire them. At once entertaining and moving, Gaysia is a wild ride and a fascinating quest by a leading travel writer. See Indonesia, Thailand, China, Japan, Malaysia, Myanmar and India as never before through the eyes of gonzo anthropologist and journalist Benjamin Law.
Foolish Hearts
New Gay Fiction
Edited by Timothy J. Lambert and R. D. Cochrane
As gay marriage bells are finally ringing out around the world, bestselling editors Timothy J. Lambert and R. D. Cochrane celebrate with a collection of gay romance that will incite love—and lust—in every reader. A thirty-something realizes the man sleeping beside him every night is his real Prince Charming in Steven Reigns' "On These Sheets." Love, youth and age bump up against each other at a gay guesthouse in "Symposium," by Andrew Holleran. A hopeless romantic finds his heart's desire amid the temptations of Hollywood in Felice Picano's "New Kid in Town: 1977." Men who love men abound in this dazzling collection of deliciously sexy, romantic and tender stories. Foolish Hearts is also available as an audiobook.