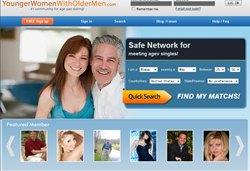 Los Angeles California (PRWEB) October 09, 2014
A recent survey measured people's attitudes about marrying a partner either older or younger than themselves. The survey results showed that women were significantly more willing than men, to marry a partner who was 5 years older than they were. On the other hand, it also showed that men were significantly more willing than women, to marry a partner who was 7 years younger.
The survey was conducted by the online dating website YoungerWomenWithOlderMen.com, and the survey participants were members of this dating community. The site has over half a million active members, and it is the number one site in the world that specializes in age gap dating.
There are many reasons that younger women enjoy dating, and are willing to marry, older men. Younger women dating these more mature men appreciate that they know how to treat a lady well. Women appreciate the experience and worldliness that an older man has, and the confidence that goes with it. Sometimes there is also a monetary aspect, as older men tend to be in a better financial situation, but this is not always the case. Women looking for older men often also appreciate the greater stability that more mature men can offer.
Many older men enjoy dating a younger woman because of her enjoyment of life and the energy she brings to the relationship. Younger women are typically more active, and can inspire a mature man and make him feel more energetic again. Being with a younger woman helps a man regain the feeling of vitality, life, youth, and physical attractiveness that he used to feel. These are all reasons that men are more willing to marry someone 7 years their junior, compared to women.
About YoungerWomenWithOlderMen.com
YoungerWomenWithOlderMen is the premiere online dating website for age gap dating, with more than 550,000 active members. This site has thousands of younger women looking for older men, and older men seeking youthful women. The company has been doing business in online dating for more than 11 years, so has great expertise. The site has many success stories from bringing younger women together with older men for dating, love and romance. It is free for singles to set up a profile and browse through more than a half million members.