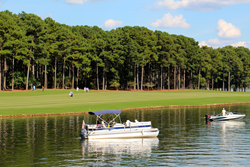 Reynolds Plantation - Award-Winning Community in Georgia
Atlanta, Georgia (PRWEB) October 09, 2014
Over the past two years, Reynolds Plantation has become a pretty exciting place to live on Lake Oconee, one of Georgia's most beautiful lakes. The world got a glimpse of this picture perfect golf and boating community on television last week as Golf Channel covered the 2014 Big Break Invitational at the newly renovated Great Waters Course and Clubhouse. The golf course is one of the prettiest and most well maintained Real Estate Scorecard has seen!
The setting couldn't have been more beautiful and fun. Real Estate Scorecard observed the competitors interact with the crowd and club members in a relaxed and playful way, signing autographs as they navigated from one hole to the next, after they finished a putt and at the end of the day at 19th hole. Members appreciated the informality of it all and the chance to watch the young, up and coming players in the golf world.
The back nine holes border Lake Oconee and gave smart boaters a front row seat during the competition. After walking the course with the players, we couldn't help but appreciate how well designed the community is with Reynolds Plantation homes tucked spaciously under a canopy forest, some separated by nature viewing corridors and deer peeking through. Soft wind chimes, garden art and welcoming porches added to the sense of peacefulness as boaters with water-skiers in tow passed by. Staff and club members exuded southern charm making sure everything went off without a hitch for everyone's enjoyment. The nationally-televised Big Break Invitational golf tournament was just one of many perks members enjoy at Reynolds Plantation.
The excitement continues! Reynolds Plantation's newest amenity is now underway at the National Course. The National Village is planned to include the following:
EVENT LAWN - An attractive 6,000 square foot green space area with a terrace and fire pit designed with social functions in mind.
THE TAVERN - A new casual restaurant and lounge with views of the ninth green and event lawn. The island theme and wrap-around porch with porch swings will provide cozy gathering places for club members to enjoy.
THE GOLF SHOP - The 3,000 square foot building is planned to include retail space, locker rooms, snack bar and registration area.
CART STORAGE FACILITY - With the look of an antique barn, the facility will have the capacity to store 120 carts.
Reynolds Plantation is home to six championship golf courses, each with its own individual personality. The new National Village will provide another fun-filled venue for club members to enjoy. The golf shop and cart storage facility are projected to open in the spring of 2015 with The Tavern's completion to immediately follow.
Reynolds Plantation is a busy Lake Oconee community filled with social activities for residents of all ages. Coming up, the final Full Moon Cruise, Halloween Trick or Treat festivities and holiday celebrations. New Reynolds Plantation model homes are under construction on Mill Creek, overlooking Creek #5, The Landing Villas, on Club Point Circle, adjacent to Landing #10 & #18; and several homes in The Landing Cottage Collection, behind The Landing Clubhouse. Here's an overview of what residents at Reynolds Plantation enjoy on a regular basis:
REYNOLDS PLANTATION AMENITIES
24 Hour Manned Gated Entrance
Six 18 Hole Championship Golf Courses
Reynolds Golf Academy and The Kingdom at Reynolds Plantation
Five Golf Clubhouses
Six Resort-style Swimming Pools
16 Tennis Courts with Stadium Seating
38,000 Square Foot Fitness Center
Four Full Service Marinas with Boat Ramps
Ritz-Carlton Lodge
Lake Oconee Village - retail shopping complex
For folks exploring where to live in the Southeast, Reynolds Plantation is an excellent place to start, especially if living in friendly community with lots of things to do is important with mild year round weather.
Contact Reynolds Plantation direct at 706-467-1133 to schedule a visit.
About Real Estate Scorecard:
Real Estate Scorecard writes unbiased real estate reviews providing in-depth information about popular gated communities in Florida, Georgia, North Carolina, South Carolina and Tennessee, all in an effort to help people discover where to retire in the Southeast.
Website: http://realestatescorecard.com