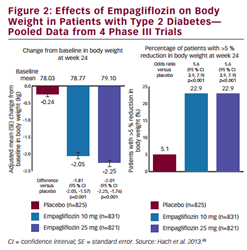 SGLT2 inhibitors over existing treatments is the improvement in cardiovascular risk factors, particularly in terms of reductions in blood pressure and body weight.
(PRWEB UK) 10 October 2014
Diabetes imposes a substantial burden on societies worldwide: approximately 25 million individuals in the US have diabetes, of which more than 95 % is type 2. Furthermore, its incidence is increasing, a further 79 million adults in the US have pre-diabetes and one in three US adults could have diabetes by 2050.1 In addition, the age of diagnosis of type 2 diabetes is decreasing. Lifestyle interventions remain essential to the management of type 2 diabetes; however, most patients will not reach their therapeutic goals with these interventions alone and will require pharmacologic therapies. Diabetes is associated with substantially increased cardiovascular (CV) risk; diabetic patients requiring glucose-lowering therapy aged 30 years or over have a CV risk comparable to nondiabetics with a prior myocardial infarction. Therefore antidiabetic therapies should not only reduce glycated hemoglobin ( HbA1c), but also CV mortality.
Currently, there are several classes of pharmacologic agents approved for the treatment of diabetes in the US, involving numerous mechanisms of action including the stimulation of insulin production in the pancreas; decreasing sugar release from the liver; or decreasing or delaying sugar uptake from the gut. However, despite the widespread availability of these therapies, only half of patients with type 2 diabetes attain the American Diabetes Association (ADA) recommended target of HbA1c of 7.0 %, blood pressure (BP) targets of <130/80 mmHg, and low-density lipoprotein-cholesterol (LDL-C) targets of <100 mg/dl. Furthermore, the incidence of CV mortality in patients with type 2 diabetes has not substantially decreased in the last decade. The CV safety of antidiabetic medications has become an area of concern since treatment with the thiazolidinedione medication rosiglitazone was associated with an increased risk for CV events. As a result, the US Food and Drug Administration (FDA) now requires evidence that new treatments for diabetes do not increase CV risk.
To continue reading this peer-reviewed article in full for free please go to:http://www.touchendocrinology.com/articles/glucose-control-and-cardiovascular-outcomes-clinical-trials-sodium-glucose-co-transporter-0
NOTE TO EDITORS
touchENDOCRINOLOGY (a division of Touch Medical Media) provides independent, cutting-edge, peer-reviewed content from world renowned physicians, designed to lead the debate on health and to engage, inform, and support physicians in improving patient outcomes globally.
touchENDOCRINOLOGY.com provides an international platform for peer-reviewed content from industry-leading journals alongside other carefully selected sources and aims to support physicians, clinicians and leading industry professionals in continuously developing their knowledge, effectiveness and productivity within the field of diabetes.
Our portfolio of peer-reviewed journals, European Endocrinology and US Endocrinology comprise of concise review articles which are designed to keep busy physicians up-to-date with the latest developments in their field and serve as a key reference resource for the international diabetes community.