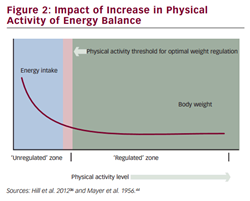 Recent research suggests that strategies to combat obesity should focus on energy flux (the amount of calories going through a system), rather than energy balance alone.
(PRWEB UK) 10 October 2014
Obesity is a global epidemic and represents a substantial health and economic burden. In the US, more than one-third (34.9 %) of adults were obese in 2011– 12. Obesity has been associated with the development of chronic diseases such as: type 2 diabetes, coronary artery disease, dyslipidemia, stroke, and some cancers. Childhood obesity is the most important risk factor for insulin resistance as well as increased circulating levels of insulin, leading to decreased insulin sensitivity and increased risk for developing the metabolic syndrome, type 2 diabetes, and cardiovascular disease. Adiposity, which is not assessed properly by the commonly used body mass index (BMI), is also a predictor of long-term physical disability. It is estimated that the health-related costs of obesity have risen to almost 10 % of all medical spending, which, based on 2008 health care costs, amounts to $147 billion per year.8 These data do not account for differences in physical activity levels or fitness. Projections suggest that more than half of the US adult population will be obese by 2030, accruing an additional 6–8.5 million cases of diabetes, 5.7–7.3 million cases of heart disease and stroke, 492,000–669,000 additional cases of cancer, and 26–55 million quality-adjusted life-years lost for the US and UK combined. This article aims to examine the causes of the rise in obesity as well as to further the understanding of the energy flux and its contribution to developing practical solutions to help reverse the obesity crisis and improve public health.
The factors underlying the obesity epidemic are complex. For most people, exercise makes up a small part of the energy spent on physical activity. The remainder is spent on routine daily activity including office expenditure, transportation, and household chores. These are collectively termed nonexercise activity thermogenesis (NEAT). Declining levels of NEAT have played a major role in the obesity epidemic10 and involve both environmental effects resulting from sedentary lifestyles (escalators, elevators, lack of sidewalks, unsafe neighbourhoods) and lifestyle factors, which include personal choices (choice of household devices that encourage sedentary behavior).
To continue reading this peer-reviewed article in full for free please go to:http://www.touchendocrinology.com/articles/energy-flux-and-its-role-obesity-and-metabolic-disease-0
NOTE TO EDITORS
touchENDOCRINOLOGY (a division of Touch Medical Media) provides independent, cutting-edge, peer-reviewed content from world renowned physicians, designed to lead the debate on health and to engage, inform, and support physicians in improving patient outcomes globally.
touchENDOCRINOLOGY.com provides an international platform for peer-reviewed content from industry-leading journals alongside other carefully selected sources and aims to support physicians, clinicians and leading industry professionals in continuously developing their knowledge, effectiveness and productivity within the field of diabetes.
Our portfolio of peer-reviewed journals, European Endocrinology and US Endocrinology comprise of concise review articles which are designed to keep busy physicians up-to-date with the latest developments in their field and serve as a key reference resource for the international diabetes community.