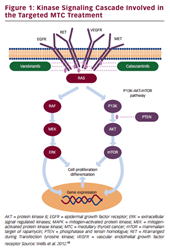 Vandetanib & Cabozantinib, have demonstrated efficacy and safety in phase III trials and have consequently received regulatory approval.
(PRWEB UK) 10 October 2014
Thyroid cancer is the most common endocrine malignancy, being responsible for approximately 95 % of endocrine cases and 1.5 % of all cancers. Its incidence has increased substantially in recent decades and has been rising by 6.4 % per year over the past 10 years.1 This is due to a combination of an apparent increase resulting from more sensitive diagnostic procedures and of a true increase, a possible consequence of increased population exposure to radiation and to other still unrecognised carcinogens. In Europe there were approximately 52,900 new cases of thyroid cancer in 2012 (approximately 40,700 in women; 12,300 in men).
Medullary thyroid cancer (MTC) is an uncommon type of thyroid cancer, representing around 4 % of thyroid cancers. It is also a challenging malignancy, since until recently surgery was the only effective therapeutic option. There is therefore a need for novel treatment options, especially for patients for whom surgery is unsuitable and with metastatic disease. This article aims to consider the current state of treatments, the efficacy and safety evidence from clinical trials supporting the tyrosine kinase inhibitors (TKIs) cabozantinib and vandetanib and their prospects for future use in this disease.
Prognosis, Clinical Presentation and Diagnosis
Thyroid cancers are classified into three groups. Differentiated thyroid carcinoma (DTC) represents 94 % of all thyroid cancers and includes three subtypes: papillary (80 %), follicular (11 %) and Hurthle cell carcinoma (3 %). Anaplastic (undifferentiated) thyroid carcinoma (ATC) represents 2 % of all thyroid cancers. And, as previously mentioned, MTC accounts for 4 % of the total cases.
To continue reading this peer-reviewed article in full for free please go to:http://www.touchendocrinology.com/articles/multikinase-inhibitors-treatment-progressive-metastatic-medullary-thyroid-cancer-evolving-p
NOTE TO EDITORS
touchENDOCRINOLOGY (a division of Touch Medical Media) provides independent, cutting-edge, peer-reviewed content from world renowned physicians, designed to lead the debate on health and to engage, inform, and support physicians in improving patient outcomes globally.
touchENDOCRINOLOGY.com provides an international platform for peer-reviewed content from industry-leading journals alongside other carefully selected sources and aims to support physicians, clinicians and leading industry professionals in continuously developing their knowledge, effectiveness and productivity within the field of diabetes.
Our portfolio of peer-reviewed journals, European Endocrinology and US Endocrinology comprise of concise review articles which are designed to keep busy physicians up-to-date with the latest developments in their field and serve as a key reference resource for the international diabetes community.