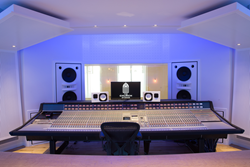 Bringing WSDG in to design two of their world-renowned rooms has been an incredibly successful team effort," Epworth concludes
London, United Kingdom (PRWEB) October 08, 2014
In the culmination of a nearly yearlong design/reconstruction project, multi-Platinum/Academy Award-winning producer Paul Epworth (Paul McCartney, Adele, Coldplay, U2, Lorde) has announced the completion of stage one of a massive renovation of The Church Studios. Reconfiguring the legendary Studio 2 Live and Control Rooms, and creating a unique totally new Writing Room, engaged the design and acoustic skills of the WSDG - Walters-Storyk Design Group, and the studio installation/ operational expertise of Miloco Builds.
The massive stone church (circa 1855) originally converted to a studio in 1984 by producer/artist Dave Stewart, hosted hit sessions for artists ranging from Bob Dylan to Depeche Mode and Annie Lennox. Recording star David Gray purchased the studio in 2004 and continued its hit-making legacy. Committed to building a world-class studio in London, Paul Epworth bought The Church Studios from David Gray in 2013. Earlier that year Epworth had worked at Anne Mincieli's Jungle City destination studio in NY. Impressed by Jungle's unique architectural sensibility, and its WSDG/Augspurger Dual 15 Vertical Speaker System, he reached out to architect/acoustician, John Storyk and WSDG.
The totally new (90 sq. m.) Studio 2 is an ultra modern showcase featuring a completely recapped classic SSL 4000G console, 'insanely powerful' custom WSDG/Augspurger Monitors and an astonishing array of outboard gear. The 'Space Age' (26 sq. m.) Studio 3 Writing Room designed from the ground up by WSDG, is distinguished by a Shadow Hill Equinox summing mixer, a 20 channel Neve Sidecar and complete access to The Church Studios vintage gear collection.
Following the design and construction stage, WSDG partners Dirk Noy and (Grammy-winner) Renato Cipriano flew to London from Basel, Switzerland and Belo Horizonte, Brazil respectively, to perform final measurements, confirm acoustic accuracy and fine-tune the new rooms. Still on the drawing board for future renovation, The Church Studios Studio 1 is an epic (78 sq. m.) tracking room with a triple height ceiling and a vast arsenal of technology punctuated by a vintage 72-channel EMI Neve console (credited with recording such hits as Pink Floyd's Wish You Were Here at Abby Road).
Commenting on The Church Studios renovation, Paul Epworth remarked, "I was very impressed with the feel and the monitoring of Jungle City, and wanted to be the first to build a WSDG/Augspurger room in London to meet the needs of both British and international artists, producers and engineers. Bringing WSDG in to design two of their world-renowned rooms was the first step, and the collaboration with Miloco has been an incredibly successful team effort," Epworth concludes. "The Church Studios provides nearly 750 sq. m. of recording space over three very different rooms, including rare and vintage recording gear married to the most modern digital and analogue equipment to give users the freedom to indulge their creative impulses instantly."
For more Information please visit http://www.wsdg.com or email us at info(at)wsdg(dot)com