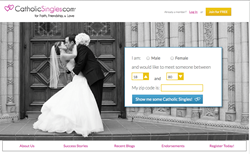 Henderson, NV (PRWEB) October 08, 2014
CatholicSingles.com has teamed up with Catholic Answers, the leading Catholic website for Catholic apologetics and evangelization, in order to bring its members a quality resource for faith and discussion. As the chief consideration for members who join CatholicSingles.com, understanding and sharing their faith with other potential mates is of the utmost importance. "Apologetics, which is basically the how's and why's of our faith, will provide a reference point and help fill in the gaps for some of us who forget from time to time why we believe ceratin things. Most of us don't attend religious education after grade school so this resource becomes even more valuable," says David Nevarez president of CatholicSingles.com. The apologetics resources will be available to all registered members.
The Catholic Answers mission statement reads, "We help good Catholics become better Catholics, bring former Catholics 'home', and lead non-Catholics into the fullness of the faith".
Owned and operated by practicing Catholics, the goal of Catholic Singles is to provide a supportive environment for members to grow in their faith while on their journey to make new friends for fellowship and marriage. CatholicSingles.com is honored to have Catholic Answers join them in that mission.