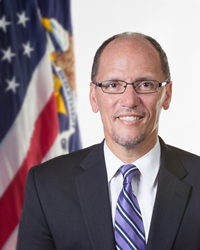 Alexandria, VA (PRWEB) October 08, 2014
The Association for Career and Technical Education (ACTE) today announced that U.S. Department of Labor (DOL) Secretary Thomas Perez will provide an address during the ACTE Awards Banquet, to be held Wednesday, November 19 in Nashville, TN.
"I am ecstatic that Secretary Perez has accepted our invitation to speak during the ACTE Awards Banquet," said ACTE Executive Director LeAnn Wilson. "The ACTE Excellence Awards recognize individuals who have demonstrated leadership and passion in their work to advance career and technical education, and we are fortunate to welcome Secretary Perez to this event in recognition of his commitment to preparing Americans for the careers of tomorrow."
The ACTE Awards Banquet will be held at the Gaylord Opryland during ACTE's CareerTech VISION 2014, and honors the winners and finalists of the ACTE Excellence Awards. Perez will discuss the importance of CTE in providing students with the spectrum of skills essential to be work-ready in today's global economy.
Secretary Perez has demonstrated a commitment to CTE, both in his public statements and his efforts to increase equitable access to the skills training students need for 21st century careers. During his tenure, he has overseen the Administration's efforts to expand Registered Apprenticeships, worked with other federal agencies to promote career pathways, administered the Ready to Work Partnership and Youth CareerConnect grant programs and is now leading the implementation of the new Workforce Innovation and Opportunity Act.
Registration for the event will be available until November 12. To learn more about the ACTE Awards Banquet and CareerTech VISION 2014, please visit http://www.CareerTechVISON.com. Members of the media who would like to attend this event should contact Sean Lynch at slynch(at)acteonline(dot)org or 703-683-9312.