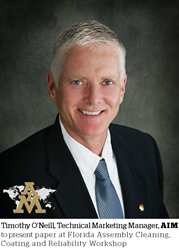 CRANSTON, RHODE ISLAND (PRWEB) October 08, 2014
AIM Solder will be hosting a technology session as part of the Florida Assembly Cleaning, Coating and Reliability Workshop. During this free one-day workshop, several industry experts in cleaning equipment, cleaning chemicals, soldering materials, conformal coating, and failure analysis will present the latest best practices and technically relevant knowledge from their field of expertise. AIM's Technical Marketing Manager, Timothy O'Neill, will present 'Conformal Coating Over No Clean Flux, Part 2'.
In this paper, O'Neill examines the studies conducted by AIM's Research & Development Department in affiliation with OEM electronics and conformal coating manufacturers, in an effort to characterize the different coating technologies and how they perform when applied over no clean flux residue.
Timothy O'Neill is an experienced technical writer and speaker for industry trade publications and events. Since the start of his career in 1994, he has co-authored several white papers on PCB assembly subjects, and is currently working on several projects including an innovative study in collaboration with Brown University.
This free workshop hosted AIM Solder, Aqueous Technologies, Zestron and HumiSeal will be held in two locations. The Tampa Workshop will be held on Tuesday, October 14 from 9:00 AM to 4:00 PM at the Best Western Bay Harbor Hotel in Tampa, Florida, register here. The Melbourne Workshop will be held Thursday, October 16 from 9:00 AM to 4:00 PM at Mack Technologies in Melbourne, Florida, register here.
About AIM
Headquartered in Montreal, Canada, AIM Solder is a leading global manufacturer of assembly materials for the electronics industry with manufacturing, distribution and support facilities located throughout the world. AIM produces advanced solder products such as solder paste, liquid flux, cored wire, bar solder, epoxies, lead-free and halogen-free solder products, preforms, and specialty alloys such as indium and gold for a broad range of industries. A recipient of many prestigious SMT industry awards, AIM is strongly committed to innovative research and development of product and process improvement as well as providing customers with superior technical support, service and training. For more information about AIM, visit http://www.aimsolder.com.
Upcoming Events:
October 14, 2014 – Tampa Assembly, Cleaning, Coating, and Reliability Workshop - Tampa, FL USA
October 15, 2014 - SMTA Long Island – Islandia, NY USA
October 16, 2014 – Melbourne Assembly, Cleaning, Coating, and Reliability Workshop - Melbourne, FL USA October 22, 2014 - SMTA Connecticut – Waterbury, CT USA