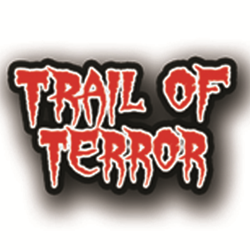 Shakopee, MN (PRWEB) October 08, 2014
Trail of Terror, from the producers of the Minnesota Renaissance Festival, is celebrating the 21st year of terror beginning Friday, Oct. 10. Dates for the 2014 season are Oct. 10-12, 17-19, 24-26, 31 and Nov. 1 starting at 7 p.m. Trail of Terror is considered the Twin Cities' largest and scariest Halloween event with more than 2.5 miles of scares and horrors, indoors and out.
Returning to the Trail of Terror is the popular Zombie Paintball, sponsored by MN Pro Paintball, with two new paintball trails. Humanity has been compromised by the viral outbreak of the ZN2 disease. Participants must recruit their bravest friends to save Terror Town from the apocalyptic spread of the afflicted. In addition to the main event, participants can challenge their friends at the Zombie Paintball Target Range to hone their paintball skills in an eerie graveyard setting.
Trail of Terror attendees can duck into one of the few safe havens left in the Dark Woods at the Schell's Craft Brew Pub. Serving up a showcased selection of locally-brewed craft beers, friends and family can relax between frightening events.
In addition to the new attractions, Trail of Terror favorites can be found all season long. Find the way out of the Dark Woods! Zig zag through the Howling Pines Woods Walk, with a sense of dread growing with every turn. Or book a room at Harmony's best accommodations, Hotel 666, in the largest heated indoor maze in the Twin Cities. Looking for the ultimate in truly horrifying experiences? Participants will sign away their rights to be touched in the scariest event in the Midwest. They're strapped down, blindfolded on a gurney, helpless to the darkness around them. With shows every 20 minutes, Lockdown will leave guests with spine-tingling memories to last a lifetime.
The faint of heart won't be left out during nightly Bean Bag and Beer Pong as well as the classic Hammerschlagen! Come warm up in the heated Club Scream tent, party with music and take a break from the frightening terrors of the night. Bring friends and gather around the bonfire to listen to a storyteller or pick a favorite tune and sing along with karaoke every night.
Feel a rush of adrenaline and take a ride on the crazy carnival rides. Flip and twist into the night sky and hear the screams of delight as people are propelled into the air on the giant swing. Give it a go – for those feeling brave enough to try out these tumbling rides that are sure to get the blood pumping!
Join Jim Cunningham for an evening of magic and mystery at the Phantom's Feast, Oct. 17 through Nov. 1. Each Feast ticket includes admission to Trail of Terror, a four-course meal and a special souvenir gift! With only seven shows, tickets are limited so reserve seats early. For a full listing of days, times and menu, as well as how to purchase tickets, please visit http://www.trailofterrorfest.com.
For those looking to escape their zombies, the Running Dead 5k Race on Oct. 18 provides heart-pounding fun. Runners follow a path through the woods of terror, evading zombies lurking throughout the course to make it to the finish. The 5k will include admission to the Trail of Terror, one free Woodchuck Hard Cider and a T-shirt. Make sure to check the website for more details on all events.
Trail of Terror is entering its 21st season of frights and delights starting Oct. 10 through Nov. 1. Trail of Terror is open from 7 p.m. to 12:30 a.m. Friday and Saturday and 7 to 11 p.m. Sunday, rain or shine. It is located seven miles south of Shakopee on Hwy 169. Ticket prices: General Admission $19.95; Advance/online $16.95. Discount tickets are available at participating Walgreens stores. Coupons towards admission are available at Papa Murphy's and Subway. Visit http://www.trailofterrorMN.com or call 952.445.7361 for more information.