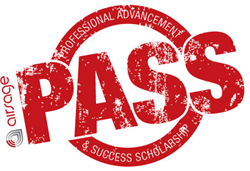 The AirSage PASS scholarship enables young professionals to get involved and make an impact.
ATLANTA, Ga. (PRWEB) October 09, 2014
With technological advancements rapidly transforming the urban planning horizon, young professionals depend on continuing education to maximize opportunities for success. Funding, however, can be a major challenge. Awarded quarterly, the AirSage® PASS (Professional Advancement and Success Scholarship) has removed the financial hurdle for two members of Young Professionals in Transportation (YPT).
A pioneer in digital population analytics and the largest provider of consumer locations and population movement in the U.S., AirSage awards funds exclusively to YPT members as a way to provide greater access to career training. The AirSage PASS scholarship helps recipients cover the costs of registration, tuition, travel expenses and other fees associated with conferences, seminars, and more.
"The transportation industry's next generation of thought leaders are already helping change how communities work," said Candace Brakewood, YPT Deputy Chair. "The AirSage PASS scholarship enables young professionals to get involved and make an impact."
To date, 14 YPT members have benefited from AirSage PASS scholarships, including these third-quarter recipients:
KEITH M. HALL
Hall, a LEED certified project engineer with Maser Consulting in New Jersey, was awarded AirSage PASS funds to cover his cost of attending the ITE 2014 Annual Meeting and Exhibit in Seattle, Washington in August. As an invited speaker, Hall presented on the ways traffic signals are planned, designed and constructed that can lead to more sustainable operations and maintenance solutions. "I quickly learned that if you want to stay ahead of the curve, never stop learning and on this stage, the AirSage PASS has provided the vehicle to do just that. It's phenomenal that AirSage provides this opportunity to recognize emerging professionals within the transportation industry and aids in achieving their goals by elevating them to the next stage in their careers."
MICHAEL JANSON
Janson's AirSage PASS award will allow him to attend the Transportation Research Board (TRB) 94th Annual Meeting in Washington D.C. in January 2015. While at the conference, he'll potentially present his research on, "Alternative High Occupancy/Toll (HOT) Lane Pricing Strategies" and their effect on market share. As an engineer with SRF Consulting Group in Minnesota, Janson wants to find new and creative ways to utilize his software development expertise in the transportation engineering field. "This is a tremendous opportunity to learn from and network with transportation research professionals from around the world. I'm thankful to AirSage as I would not be able to attend the conference without financial support."
The submission process for the next AirSage PASS award is now open. Applications must be submitted by 5:00 PM (Eastern), December 10, 2014.
For more information on the AirSage PASS or any of the AirSage Giving Back programs, visit http://airsage.com/Giving-Back/
About AirSage
AirSage®—a pioneer in population analytics—is the largest provider of consumer locations and population movement intelligence in the U.S. Each day, AirSage uses patented technology to capture and analyze more than 15 billion anonymous, real-time, cellular-signal data points to identify travel patterns and transportation trends. Partnerships with the nation's largest wireless carriers give AirSage exclusive access to data from more than 100 million mobile devices. Analyzed and aggregated, AirSage data provides actionable insights into where and when people travel and is transforming the transportation industry, commercial enterprises and a diverse range of industries. Find AirSage online at http://www.airsage.com and on Twitter @AirSage #AirSagePASS
About YPT
YPT is a professional organization for young transportation professionals based in Washington, D.C. with chapters around the country. YPT aims to provide career guidance, fellowship, and networking opportunities for young professionals in the transportation field through seminars, meetings, and happy hours. Find YPT online at http://yptransportation.org/ and on Twitter @YPTvoice.