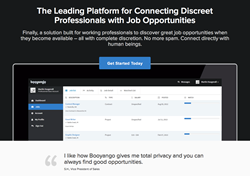 Booyango was built specifically for working professionals who want to discretely explore other career opportunities.
Grand Rapids, Michigan (PRWEB) October 10, 2014
Booyango is a new website built specifically for working professionals in discovering relevant job opportunities as soon as they become available. Booyango only features career opportunities that are posted directly to the site by recruiters who are looking to fill specific positions. The free online resource also provides its users with full control over how much of their information is shared publically while still allowing recruiters to discover and connect with them.
"We understand that looking for potential career opportunities, especially while you're employed, can be a sensitive matter," said Chris LaFontaine, CEO of Booyango. "Booyango was built specifically for working professionals who want to discretely explore other career opportunities."
When a professional creates a free Booyango profile, they have full control over what amount of personal information (e.g., name, current employer, skills, work and education history, etc.) is made public. Booyango ensures that a job-seekers' personal information remains private until the candidate gives the recruiter permission to access it. When a recruiter posts a relevant job opportunity that matches a professional's experience and skillsets, Booyango notifies both parties. If mutual interest is expressed, the candidate's full profile is shared with the recruiter and Booyango facilitates direct person-to-person communication.
"While job boards and social networking models exist, these platforms either lack efficiency or a sense of discretion," said LaFontaine. "Other social hiring engines allow professionals to connect with recruiters but the public nature of these services exposes career seekers to unwanted requests and can make for an awkward situation with their current employer."
Booyango's automated matching process eliminates the tedious task of manually searching job boards. Once a job has been filled, Booyango ensures that the posting is removed from the site. This process guarantees that all Booyango job postings are relevant and up-to-date.
"As the number online job postings increase, it is becoming more time consuming for career-seeking professionals to search lists of job in order to find relevant opportunities," said LaFontaine. "Once a professional creates a Booyango profile, they'll never have to search a job board again."
According to a 2014 study by the Center on Education and the Workforce at Georgetown University, between 80 and 90 percent of the 2.7 million jobs that are posted online each month require a bachelor's degree. Managerial/professional office and STEM-related jobs are the most in-demand, making up 61 percent of all online job ads.
About Booyango
Designed and developed by professionals and long-time hiring managers, we have long understood the frustrations of current technology and the approaches to hiring and getting hired. The mission and purpose of Booyango – to revolutionize the hiring process, for both professionals and companies, and finally enable them to truly harness the power of the web in the most effective way to get professionals in great career opportunities and companies to get the best talent to grow their business.