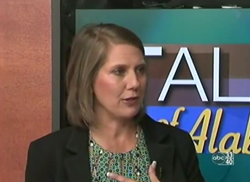 Try honestly to see things from the other person's point of view.
Birmingham, AL (PRWEB) October 09, 2014
Dale Carnegie Training to improve communication for employees, individuals and organizations
On September 29, 2014, Nancy Covert, President of Dale Carnegie Training of Birmingham, AL, appeared on the Talk of Alabama morning show. In her interview with host Ebony Hall, Covert noted that the upcoming program How to Communicate With Diplomacy and Tact beginning on November 13th benefits a wide variety of participants working to improve communication, especially on hot button topics. Dale Carnegie Training works with a wide variety of people - from individuals to employees in small and large organizations. The program focuses on how to organize your thoughts and convey your message without offending others - a necessary skill to create employee engagement.
One of the most beneficial aspects of the How to Communicate with Diplomacy and Tact program is the way it is designed to support positive communication and people skills, regardless of background, employment status or professional niche. Skills such as learning how to disagree agreeably and communicate more effectively are a couple of the topics covered. Because as much as 80% of messages are misunderstood, there is always room for communication improvement, which makes this a valuable program for almost anyone.
"Leaders and managers can really benefit," notes Covert. "because they have to give coaching and feedback to employees. It is critical that coaching and feedback be given in a positive manner, and we want our message to be clear." When asked for one tip, Nancy points out one of Dale Carnegie's Principles of Success: "Try honestly to see things from the other person's point of view." Nancy says. There is little doubt that Dale Carnegie Training has an excellent reputation for personal advancement and business soft skills. The organization has endured for over 100 years, and boasts over 9 million course graduates. Some of the most famous graduates include Warren Buffett and Mary Kay Ash, along with local graduates Mickey Newsome from Hibbett Sports, and Harry Brock from Compass Bank. The whole segment with Nancy Covert may be viewed here:
Dale Carnegie Training
Founded in 1912, Dale Carnegie Training has evolved from one man's belief in the power of self-improvement to a performance-based training company with offices worldwide. We focus on giving people in business the opportunity to sharpen their skills and improve their performance in order to build positive, steady, and profitable results. You can visit Dale Carnegie Training of Birmingham on the web at http://birmingham.dalecarnegie.com/
-###-