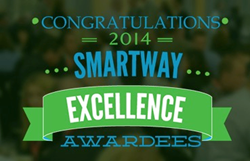 "This is a humble honor to be recognized as one of the top performers in the industry." -Nick Forte, Prime Maintenance Administrator
San Diego, CA (PRWEB) October 08, 2014
Prime, Inc., a leader in North American shipping and logistics, announced that they have been recently selected as a 2014 SmartWay Excellence Award recipient by the U.S. Environmental Protection Agency (EPA). This is the third year in a row that the company has received this award for their excellence as a top truck and multi-modal carrier partner.
The SmartWay Excellence Award, reserved for the top one percent of SmartWay Partners, is the EPA's highest recognition for demonstrated leadership in the movement of goods via freight transport. The prestigious award is given to partnered organizations that achieve or exceed fuel efficiency levels, air pollution reduction and greenhouse gas reduction performance goals in an effort to better the general population and the environment.
Launched in 2004 by the EPA, the annual SmartWay Excellence Award has become one of the premier awards in recognizing the environmental efforts of shipping, logistics and carrier companies across the United States. Since 2004, over 3,000 partners have saved $16.8 billion dollars in fuel costs and decreased their C02 emissions by 51.6 million metric tons.
"Prime continues to use technology and training to be the most efficient fleet in the industry. We understand the value of our limited resources and our impact on future generations," stated Nick Forte, Prime, Inc. Maintenance Administrator. "Once again, this is a humble honor to be recognized as one of the top performers in the industry."
Prime, Inc. will be honored alongside all of the SmartWay Excellence Award carrier recipients on Tuesday, October 7, 2014 at 8 a.m. PDT.
The ceremony will take place at:
American Trucking Associations (ATA) Annual Management Conference and Exhibition
San Diego Convention Center
Exhibit Hall B
111 W Harbor Dr.
San Diego, CA 92101
About SmartWay
EPA launched SmartWay in 2004 to help businesses improve the sustainability of their freight supply chains. Today, the program consists of more than 3,000 partners, representing a cross section of the freight supply chain industry. The SmartWay Excellence Awards honor top carriers for environmental efficiency performance. Shipping and logistics partners are also recognized for efficiency, as well as their actions to reduce freight emissions through collaboration, advanced technology and operational practices, a robust system for validating and reporting their SmartWay data, communications and public outreach.
About Prime, Inc.
Founded in 1970 by Robert Low, Prime, Inc. is North America's most successful refrigerated, flatbed, tanker and logistics trucking company. Headquartered in Springfield, MO, Prime's personnel, equipment and technology remains on the cutting edge of the transportation industry, and the company's growth remains steady and well managed.