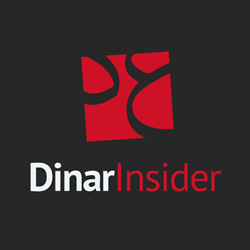 [DINARS2DOLLARS] A DinarInsider exclusive GURU "For those who know anything about Ramadan, you know that very little is "officially" accomplished during this period, yet it's also the time when all Muslims reflect on the past and plan for the year ahead"
(PRWEB) October 20, 2014
Dinar Insider has now publicly launched a credible, intelligent news and information site to serve the Iraqi Dinar investment community.Dinar Insider's mission is to help investors profit from Iraq's story of struggle and success. As the young, oil-rich nation grows its economy and moves toward revaluation of the IQD currency. DinarInsider.com is already drawing plenty of interest from Dinar investors in search of actionable information and intelligence.
DinarInsider.com is a privately-owned online news, information and education resource covering Iraqi Dinar-related issues, including business, finance, politics, security and social issues.
Dinar Insider provides unbiased, intelligent news coverage about the Dinar and works to promote investor awareness of business growth and economic opportunities in Iraq with regard to the Iraqi Dinar.
Dinar Insider aims to be the world's leading English-language news and entertainment source for information about the Iraqi Dinar, and pledges to put readers first by providing the best and most complete information about current events in Iraq and worldwide as they relate to the Dinar.
Through a worldwide network of information sources and business contacts, DI correspondents offer international perspectives and valuable insights about on-the-ground developments in Iraq and elsewhere that affect the value of the Dinar.
During pre-launch testing, Dinar Insider has already drawn widespread attention from investors in search of credible news and intelligent analysis.
Iraq contains one-fifth of the world's known oil reserves, and exploration efforts are regularly adding more discoveries. The value of Iraq's currency is ultimately based on its oil wealth and economic development, so Dinar Insider provides the background intelligence, information and education about the economic boom now underway in Iraq to enable investors to unlock the power of the IQD.
Dinar Insider is quickly becoming the Dinar community's destination of choice for investors who wish to profit from the Iraqi Dinar currency. The site lets investors quickly see past online clutter and chaos; the site's visitors find plenty of truly credible, valuable content organized in easy-to-find sections. There's something for everyone:
Dinar Gurus is the best place to find all the well-known Dinar Gurus and currency experts. Visitors learn the latest insights and wisdom from Dinar Gurus, top investors and professional analysts who discovered and understood the Dinar long before the rest of the crowd caught on.
Dinar Recaps is an up to the minute feed for the Dinar marketplace, including the most important Iraqi Dinar news highlights, plus insider exclusives, trending topics and posts by the best gurus and trending topics.
Dinar Learning Center is the web's most complete Iraqi Dinar information source. With a large knowledge base of articles, ebooks, white papers and blog posts, the Dinar Learning Center is the best resource for learning about the Iraqi Dinar from the insider community.
Dinar Reviews provides informative, accurate ratings and reviews for dealers, through a fast, unbiased system for reporting dealer pricing, customer service and support. Dinar Reviews saves money by helping you find the best dealer to meet your needs, and gives you access to insight, opinions and feedback from the Dinar community.
Insider Exclusives features exclusive news stories, leaked Dinar-related documents, dealers' discounts and special offers, real-time special coverage, and other information that's generally unavailable. Dinar Insider Exclusives is truly the world's best-informed insider source for news about the Iraqi Dinar.
Dinar Insider now offers a credible, intelligent news analysis and information resource for investors who wish to understand and profit from the Iraqi Dinar currency. To learn more, please contact press(at)dinarinsider(dot)com
Visit dinarinsider.com today