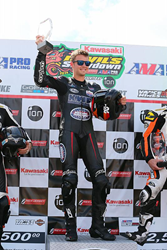 Plymouth,WI (PRWEB) October 09, 2014
After wrapping up his 2014 AMA Pro Racing season, Kyle Wyman will be appearing at the AIM Expo in Orlando Florida as part of the Millennium Technologies Family of Companies' convention booth. Wyman will be on hand to sign autographs and take photos with AIM Expo attendees throughout the weekend.
The addition of Kyle Wyman adds to the previously announced appearance from Houston,TX model Ashley Freeman who will be signing promotional posters for the powersports company.
The AIM Expo takes place October 16-19 at the Orange County Convention Center in Orlando,FL. The convention brings together OEM's, industry, press, dealers, and the public under one roof to view new powersports industry products and provide networking opportunities with exhibitors and distributors.
Kyle Wyman will be signing autographs at the times listed below (subject to change):
Thursday October 16: 12:30pm - 2:00pm
Friday October 17: 1:00pm - 2:00pm
Saturday October 18: 12:30pm - 2:00pm
To keep up to date with Millennium Technologies AIM Expo news, visit http://www.mt-llc.com
To follow Kyle Wyman visit http://www.facebook.com/kylewymanfans