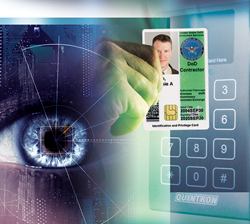 This security system brings centralized user administration and control over all perimeter doors, eliminating access by unauthorized people providing a safer environment within the schools
Santa Maria, California (PRWEB) October 08, 2014
Quintron Systems, Inc. (quintron.com), the recognized leader in advanced interoperable voice systems and physical access control/intrusion detection systems, has announced that its access control system, AccessNsite, has been installed district wide in the Kettering City Schools (Kettering, OH) by Copp Integrated Systems. "This security system brings centralized user administration and control over all perimeter doors, eliminating access by unauthorized people providing a safer environment within the schools," said Bill DeFries, CEO and Owner of Copp Integrated Systems. "In addition, the keyless entry minimizes the security risk of lost keys, reduces locksmith costs, and allows more convenient access for faculty and staff after-hours and on weekends."
"Prior to this security installation, the facilities lacked electronic perimeter control of the pedestrian doors," said Phill Hacker, Kettering City Schools, Supervisor of Buildings and Grounds. "Now all of our buildings in our entire school district are secure, and policies are in place to use only designated entry and exit points."
Kettering City Schools ordered a comprehensive security study of their facilities to evaluate the need for improvements and upgrades. The conclusions specified a need to replace and upgrade perimeter doors with electrical systems integration for access control and video surveillance, as well as a new intercom communication system. In the end when all of the access control competitors were compared, Quintron AccessNsite was selected due to its capabilities and price. "Copp has a long standing history in the Dayton area for being a full-service electrical systems integration company that provides quality work and stands behind what they do," said Richard Finnegan, V.P. and General Manager, Security Systems Division at Quintron. "We've worked with them for years and consider them to be a valuable dealer and partner."
AccessNsite provides unlimited system scalability, flexibility, and reliability for any facility, from a small business to a large enterprise, protecting it against unauthorized access. Its intuitive user interface makes accessing personnel profiles and setting up permissions, managing alarms and events, and running simple to complex reports easy, even to the novice user.
"I am very pleased with the high quality work Copp has provided throughout this project," added Hacker. "I also appreciate their support and the training they have provided. Good Work!"
For more information about the AccessNsite access control system or other Quintron solutions and services, call 805.928.4343 or visit quintron.com.
About Copp Integrated Systems
Copp Integrated Systems designs, installs, and maintains systems that integrate intrusion, fire/life safety, video surveillance, access control, nurse call, audio visual systems, and monitoring applications. The Copp team works with its customers to create a seamless infrastructure for their systems to help unify their organizations and simply their lives. Visit copp.com or call 937.228.4188 for more information.
About Quintron
For over 43 years, Quintron has provided high technology and cost effective solutions worldwide to government and industry in support of mission critical communications and security requirements for command and control applications. No other company offers the depth of expertise found at Quintron in fault tolerant, interoperable communications, and security systems. In addition to providing advanced products and systems, Quintron's professional technical services capability provides a superior level of customer satisfaction. Quintron's engineering services provide off-the-shelf or customized engineering solutions to solve the toughest of challenges facing customers. Visit quintron.com or call 805.928.4343 for more information.
# # #
All trademarks in this release are the property of their respective owners.