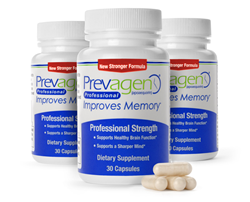 Madison, WI (PRWEB) October 08, 2014
Quincy Bioscience, manufacturers of brain health supplement Prevagen®, are offering a complimentary product kit to all naturopathic physicians during the month of October to celebrate Naturopathic Medicine Week, Oct. 6-12.
Naturopathic physicians are encouraged to take advantage of this free product offer. The kit includes one bottle of Prevagen Professional, a unique memory screening tool, The Brain Health Guide, a published memory study, and patient video. Individuals with memory concerns associated with aging may find tremendous cognitive benefits from taking Prevagen.
Prevagen Professional is the strongest formula available of the apoaequorin-containing supplements, and is carried exclusively by healthcare providers.
Prevagen® brand supplements have been available for seven years, and have helped hundreds of thousands of customers through its nationwide distribution in drugstores, health food stores, and physician offices since the product was launched.
During this week of recognizing the benefit of naturopathic care for all individuals, Quincy Bioscience would like to assist naturopathic doctors in providing their patients with a unique solution for their cognitive and memory concerns.
Naturopathic doctors can receive a free product kit at http://www.prevagenpro.com/practitioners/resources or by calling (888) 895-6463.
About Quincy Bioscience:
Quincy Bioscience is a biotechnology company based in Madison, Wis. focused on the discovery, development and commercialization of novel technologies to support good health in aging. The company's products focus on supporting memory and cognitive health. Quincy Bioscience is set apart by its cutting-edge applications of the patented protein apoaequorin, which is breaking new ground in the area of brain health.
*These statements have not been evaluated by the Food and Drug Administration. This product is not intended to diagnose, treat, cure or prevent any disease.