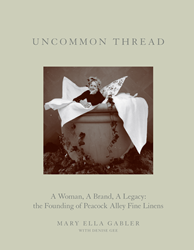 "We can't wait to welcome Peacock Alley's Mary Ella Gabler to the Lexington community," says Mary Ginocchio, owner of Mulberry and Lime. "She is an inspiration to everyone she meets and I know she will have an impact on our guests."
Dallas, Texas (PRWEB) October 16, 2014
Mary Ella Gabler founded the celebrated home textiles brand, Peacock Alley. She turned a chic boudoir pillow, created on her home sewing machine, into a multi-million dollar luxury linen business, contributing to changing how Americans view their bedrooms. Uncommon Thread is the story of that journey. This deeply personal narrative details Gabler's sacrifices and subsequent successes over the last 40 plus years, as she has built this venerable brand.
Co-hosts Mulberry & Lime and flower Magazine will co-host a cocktail party on Friday, October 17th to introduce Mary Ella to store patrons followed by an in store book signing event on Saturday, October 18th, featuring Mary Ella Gabler.
"We are thrilled to welcome Mary Ella Gabler to the Lexington community," says Mulberry and Lime Owner Mary Ginocchio. "She is an inspiration to everyone she meets and I know she will have an impact on our guests. We can't wait to hear her story firsthand."
Situated in the Ginocchio family home, Mulberry and Lime home furnishings and gift boutique features a variety of unique and artful home and gift items, including bedding and accessories from Peacock Alley.
Flower Magazine's Editor in Chief, Margot Shaw will be on hand for both events. Flower Magazine is offering a special subscription offer presently available online at flowermag.com/charity as well as the day of the event. A portion of those proceeds will benefit Camp Horsin' Around.
Says Ginocchio, "We are grateful to our friends at flower Magazine for partnering with us and helping us give back to one of our local charities, Camp Horsin' Around."
Located in Perryville, KY, Camp Horsin' Around provides a camp facility specifically designed and equipped to enrich the lives of children with serious, chronic diseases and physical difficulties.
For questions, or to register for the event, please call Mulberry and Lime at (859) 231-0800
ABOUT PEACOCK ALLEY
Peacock Alley, family owned and operated for 40 years, designs and manufactures bed and bath linens that combine a subtle touch of indulgence with trendsetting styles, always mindful of comfort and versatility. To learn more about Peacock Alley, please visit peacockalley.com, follow our news on Twitter @peacockalleyusa or like us on
Facebook at Facebook.com/PeacockAlley
ABOUT flower MAGAZINE
Originally filled with floral, garden, and event design, the niche publication has gradually broadened to include content that trumpets a floral lifestyle—interiors, art, travel, fashion, jewelry, and entertaining. Since its debut in March of 2007, flower has continued to grow at a steady pace, recently moving from quarterly to bimonthly, and available in all 50 U.S. states and 17 countries.
ABOUT MULBERRY AND LIME
In 2001 Mary Ginocchio transformed her childhood home into a wonderful home furnishings and gift shop, the first of its kind in Lexington, Ky. Mulberry and Lime is set in the historic Matthew Kennedy house.