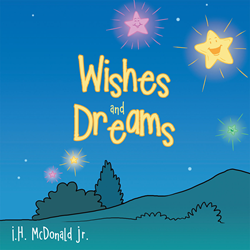 "When you look up at the sky, those stars really do mean something to everyone. Dreams really do come true,"
Augusta, Maine (PRWEB) October 13, 2014
What would you wish if you thought that the stars might listen?
Louise Dorr would wish to share the creativity and love of her father, I.H. McDonald Jr, with other parents and their children. Dorr's father passed away in 1978, but something new was brought to life: his old poem, "Wishes and dreams."
"When you look up at the sky, those stars really do mean something to everyone. Dreams really do come true," Dorr said.
Dorr's desire to serve stems from her personal and intimate connections to the military. Her devotion and volunteerism to veterans has been recognized by organizations such as the Augusta Elks Lodge, Association of the United States Army and the Department of the Army.
"In loving memory of my Father and Son, both war veterans and the angels in my life," Dorr said. All profits from the book will be donated to charities that were near to the hearts of both the author's son and father.
Book title: Wishes and Dreams
Author: I.H. McDonald Jr.
Retail price: $10.95
ISBN: 978-1-4525-2046-9
Published: Aug. 2014. Balboa Press
Available in softcover, hardcover, e-book Available on Amazon, Barnes & Noble, and Balboa
About the author
Louise Dorr is a newly retired manager of the Army and Air Force Exchange Services. She is the recipient of multiple Excellence awards due to her service and volunteerism to veterans. Currently she resides with her husband in Portland where she enjoys sewing and crafts of all kinds.