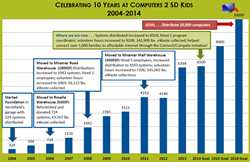 And that's why on behalf of the entire Computers 2 SD Kids family, I'm calling on San Diego's business community to pitch in; not next quarter or next year, but right now. - Larry Hershfield
San Diego, CA (PRWEB) October 08, 2014
On Saturday, October 4, Computers 2 SD Kids (C2SDK) celebrated its 10th anniversary by reflecting on a decade of incredible teamwork and unprecedented achievement -- and more importantly, by outlining three ways that businesses and individuals in San Diego County can help even more kids from low income families access essential computer technology from their homes. With the launch of the Chamber Computer Challenge on September 30, more than 35 businesses have already joined the cause. The following includes three ways to participate:
1. Call C2SDK at (858) 200-9787 and arrange for a no charge pick-up for businesses only of used computers, electronics, smartphones, peripherals and other surplus or unwanted e-waste.
2. Drop-off equipment at the C2SDK's Miramar Warehouse at 8324 Miramar Mall in San Diego.
3. Participate in U-T San Diego's pick-up drive (open to employees and subscribers) on Tuesday, December 9th from 8am-12pm at the company's Main Office at 350 Camino de la Reina in San Diego.
Launched in 2004 -- using the garage of its co-founders Larry and Tammy Hershfield as a makeshift warehouse, and with the dedication of hundreds of volunteers and a talented foundation staff -- C2SDK has grown over the years into a nationally and internationally-renowned organization that now collects, refurbishes and distributes approximately 6,500 computers to low income families across San Diego County each year. Plus, through a special program, C2SDK provides computers to families with military personnel serving overseas, so that loved ones can connect through email, chat, Skype and other methods during what is undoubtedly an anxious and stressful time; especially for kids.
In total, C2SDK has placed essential computer technology in over 30,000 homes and improved the lives of more than 130,000 kids by empowering them to learn, grow, enjoy, discover, share, and participate in an increasingly digital society. C2SDK has also kept a staggering 900,000 pounds of e-waste out of local landfills, and inspired many businesses across San Diego County to reduce their carbon footprint and "think green."
While C2SDK's accomplishments so far are astonishing, anyone who knows Larry and Tammy Hershfield won't be surprised to learn that they're not resting on their success; on the contrary, they're raising the bar even higher.
"Ten years ago, my beautiful wife Tammy and I started Computers 2 SD Kids to give kids from low income families access to essential technology at home, so they could do their homework, conduct research, communicate with teachers and friends, and do all of the other things that every kid in San Diego County deserves to do – and not just kids from relatively more economically advantaged families," commented Larry Hershfield, who in addition to his philanthropic efforts is also the CEO of Hawaiian Holdings, Chairman of the Hard Rock Hotel & Casino, and CEO of Ranch Capital.
"And while our collective achievements have in many ways exceeded our hopes and expectations, there's still much more work to be done. Frankly, even a single child who, because of financial limitations, cannot switch on a computer at home to do their homework -- or just play a fun game -- is one too many. And that's why on behalf of the entire Computers 2 SD Kids family, I'm calling on San Diego's business community to pitch in; not next quarter or next year, but right now. And who knows? Maybe some of the kids they help will become future star employees, who will help take their organization to the next level!"
C2SDK has partnered with the U-T San Diego and San Diego Regional Chamber of Commerce to launch the Chamber Computer Challenge to raise more than 10,000 computers. For more information, please visit http://www.c2sdk.org/ or schedule your company pick-up today.
For all other information including media inquiries, contact Stephanie Brown, U-T San Diego's Senior Director of Marketing and Public Relations, at stephanie(dot)brown(at)utsandiego(dot)com or 619-823-9794 or Alison Phillips, San Diego Regional Chamber of Commerce Communications Manager, at aphillips(at)sdchamber(dot)org or 619.544.1381.
About The San Diego Regional Chamber
The San Diego Regional Chamber is the hub for connections and collaboration among the regional business community, and uses that clout to advocate for public policies and candidates that support economic growth and the creation of jobs for all businesses. As the largest Chamber on the West Coast, representing more than 3,000 businesses and 400,000 employees, the San Diego Regional Chamber is fighting to make San Diego the most business-friendly region in California. For more information visit http://www.SDChamber.org.
About Computers 2 SD Kids (C2SDK)
Economic barriers to technology hinder the growth and development of low-income families and perpetuate poverty. C2SDK responds to this digital disparity and the real-world demand for computer literacy through its Technology Assistance Program that recycles and refurbishes used computers and delivers them to families in need. C2SDK also provides each recipient with education, training and technical support necessary to achieve success. For more information visit http://www.c2sdk.org.
About U-T San Diego
The San Diego Union-Tribune, LLC, owner of the 145-year-old U-T San Diego, is San Diego's leading media company and its most comprehensive source of news, entertainment and information in the region. Each week, products are delivered to more than 96 percent of all San Diego County households through its integrated media portfolio: the Pulitzer Prize-winning newspaper, U-T San Diego; the website, UTSanDiego.com; Sunday's Best; The Night + Day, DiscoverSD and DiscoverSD.com weekly entertainment guides; Spanish-language products Enlace and Vida Latina-San Diego; U-T TV, an Emmy award-winning on-demand video news source; and hyper-local community papers, U-T Community Press. For more information visit http://www.utsandiego.com.
# # #