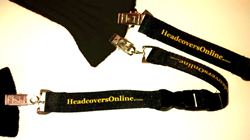 Both companies agree that this is a win-win-win situation. The golfer saves time, money and aggravation, and each of the two vendors increase revenues in a way that saves their customers time and money.
Buffalo, MN (PRWEB) October 17, 2014
With over 1800 different headcovers in stock, HeadcoversOnline.com has one of the largest, if not the largest inventory, of golf club headcovers and golf accessories on the internet.
According to Diane McIntosh, CEO of HeadcoversOnline.com, "We leverage our large volume purchasing agreements and broad base of inventory to drive lower prices for the consumer. And our one-stop-shopping approach ensures you will find distinctive headcovers or sets that will be the talk of the clubhouse."
But like most good news, there can be a demon lurking in the shadows.
Most avid golfers cherish their clubs, including their headcovers, which are a finely matched set of logos, colors and branding. They are the talk of the clubhouse because of their overall look and personal brand that speaks of and for the golfer. So losing one headcover can begin a chain of events that far exceeds the cost of replacing the missing cover; that is, if you can even find it. That leads to new matching covers or sets that may range from $40 to $100 or more.
Added McIntosh, "Misplaced headcovers certainly drive a large portion of our business, but we would much prefer it if we could help our customers not have to deal with that frustrating and expensive issue. We prefer to drive our business through innovative solutions that are proactive and to our customers' advantage."
TetherGuard Sports Products, LLC claims to have just the right solution for lost headcovers. TetherGuard anchors each headcover to one another, or to hardware on the golf bag. When a cover is pulled, or falls, from the bag, it "dangles not drops". Whether by plan or accident, your errant headcover is there waiting to be returned the club where it belongs.
Alan Codkind, CEO of TetherGuard Sports Products says, "TetherGuard is a high quality accessory that actually saves the golfer money. It is made of double thick nylon that can be silk screened to create any color tether printed with just about any logo, image or branding impression."
Codkind continues, "We are thrilled to be working with HeadcoversOnline.com. They have quickly grasped the advantages that the golfer stops losing their headcovers, while at the same time the two vendors benefit as well. The custom logos communicate branding impressions as well as provide a cross-selling opportunity for TetherGuard whenever a headcover is purchased. Would you spend $15 to protect an investment of $50 or more to replace, not to mention potential damage to the club itself while unprotected?"
HeadcoversOnline.com is now stocking TetherGuards and they are available for purchase online.
Diane McIntosh is still contemplating the best ways to leverage this unique opportunity. "Three ideas easily come to mind. First, we are considering an aggressive pricing for golfers that buy TetherGuards to protect their new headcovers. Also, we are looking at having a single bundled price for particular sets of headcovers that come with TetherGuards . And finally, we are considering providing complimentary TetherGuards as a sales incentive based on the value of headcovers in their shopping cart.
Diane McIntosh, reinforced her company's slogan about the importance of headcovers and customer satisfaction, remarking," So don't let your clubs go naked! HeadcoversOnline.com... MAKING CLUBS HAPPY AROUND THE WORLD!"
TetherGuard Sports Products, LLC is focused on addressing the opportunities made possible by the age old problem of inadvertent loss of golf headcovers. The company's formula for success is to provide a valuable, cost-effective and high quality accessory for golfers, reaching them through channels of distribution that benefit from custom branding and profitable cross-selling opportunities. For more information, visit TheTetherGuard.com website for custom branding, pricing, partnering, and other company and product-related information.