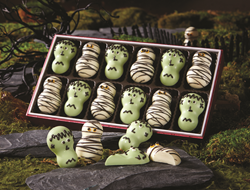 What makes The Swiss Colony's desserts special is that we use fresh ingredients like real butter, whole eggs and fresh roasted nuts.
Monroe, Wisconsin (PRWEB) October 14, 2014
Get festive this October for Halloween parties with seasonal desserts in Fall colors and Halloween motifs that are perfect for entertaining or gifting. The Swiss Colony creates delicious chocolates, cakes and candies in their bakery and candy kitchen that everyone can enjoy this time of year.
Delight trick-or-treaters at the door or Halloween party guests with Monster Melties ($24.95). A box of mini mummies and Frankensteins are ready to melt in your mouth featuring tasty Swiss creme. Each adorable sweet is hand-decorated and will be the hit at any monster mash event.
Open a tin of Candy Corn Pie Slices ($19.95) to reveal mini cakes shaped like pie slices and uniquely decorated to look like candy corn. Layers of delicate white cake and butter cream combine to taste just like an actual piece of candy corn. A must-have for any fall or Halloween party, these petits fours will get rave reviews.
Fans of pumpkin flavors will adore a box of best-selling Spiced Pumpkins ($19.95 for a dozen and $29.95 for two dozen). It's no wonder these little cake gems stay in the Swiss Colony line up year after year for fall and Halloween parties. Bite-sized moist pumpkin cake surrounds a cream cheese filling. Each cake ball is enrobed in orange icing and hand decorated with a tiny green icing leaf.
Almond Leaf Cookies ($18.95) are an excellent Fall and Halloween snack. These buttery shortbread cookies are baked in the colors of autumn. The shortbread recipe includes a hint of almond flavor that makes these special cut out cookies a lovely addition to a coffee break or afternoon tea.
Load up the cookie jar with Walnut Oatmeal Pumpkin Cookies ($21.95) that will have cookie monsters on the prowl. Soft on the inside with a crunchy sugar coating on the outside, these cookies are excellent dunked in milk. They will be gone before Halloween.
"What makes The Swiss Colony's baked goods special is that we use fresh ingredients like real butter, whole eggs and fresh roasted nuts," says Becky Henke, VP of Food at Colony Brands. "Even our candy is made in small batches the old-fashioned way."
For more delicious gift ideas, visit swisscolony.com to see a huge assortment of the company's traditional and novelty offerings including baked goods, chocolates, candies, meats and cheeses.
About The Swiss Colony
The Swiss Colony is a family-owned Wisconsin company that has been creating food gifts for more than 88 years. The company insists on the highest quality ingredients for a large selection of festively packaged gifts for every occasion. Exclusive recipes developed by European Master Bakers and hand-decorated novelties like no other are just two of the reasons customers include The Swiss Colony as part of their holiday traditions every year.