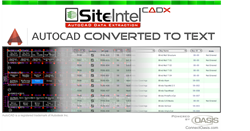 "Instant access and accuracy of data allows us to speed up our Store Planning and execution efforts dramatically". Jalal Hamad, Director, Store Environment, Merchandising Operation
Toronto, ON (PRWEB) October 10, 2014
"The big benefit of this Site-Intel CADx release is that anyone with login rights can now access data without having an AutoCAD file available. Today's AutoCAD Files contain a wealth of information, up until now only a select group of people could access that data; CADx changes all of that. The system automatically refreshes information in the cloud as drawings are updated. The implications on labor savings and reduced execution times are very significant," said Connect Oasis President, Terry Price. "This is a key component in our vision to make store planning and design files intelligent."
"Site-Intel gives The Home Depot Store and Merchandise Planning teams the ability to access store layout and SKU placement data that was previously only accessible in AutoCAD files," said Jalal Hamad, Director, Store Environment, Merchandising Operations for The Home Depot. "This represents a significant change in the way we plan and execute resets. Instant access and accuracy of data allows us to speed up our Store Planning and execution efforts dramatically."
Converting data from AutoCAD files is the first in a series of Site-Intel data consolidation initiatives being implemented by The Home Depot. "We think we are just getting started. We are very excited by the prospect of leveraging even more value from the Site-Intel platform as we layer in additional functionality and enroll more team members," said Jalal Hamad.
About Home Depot
The Home Depot Canada is the Canadian unit of The Home Depot, Canada's leading home improvement retailer. The Canadian operation consists of 180 stores and employs over 35,000 people. The Home Depot Canada has stores in all ten Canadian provinces and serves the territories through online sales.
About Site-Intel
Site-Intel is a cloud-based dynamic store intelligence application that consolidates data from multiple sources to the cloud. In addition to AutoCAD, the platform draws data from a wide range of retail business tools including SAS, JD Edwards and JDA, among other sources. The power of the application lies in its ability to make data, photos and drawings available on an easily accessible platform where filtering, cross-referencing and search queries can be applied.
About Connect Oasis
Connect Oasis is a technology and services company focused on providing retailers greater visibility and intelligence to assets and activities across their network of stores. The firms' value proposition combines the team's depth in retail planning and development with a unique technology that facilitates capture, sharing and collaboration on wide ranging site information (data, photos & drawings). The company's core applications include Site-Intel and Site-Specs, cloud-based platforms that work in combination or independently. The objective is to provide cross-functional retail teams easy access to valuable information for improved visibility, better decision-making and faster execution.