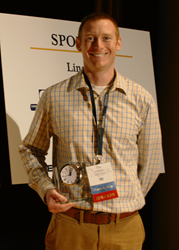 MEA congratulates Tim Delaney.
(PRWEB) October 08, 2014
MEA congratulates Tim Delaney, engineer, of Ameren Illinois for his completion of the MEA Professional Development Certificate program. The MEA Professional Development Certificate (MEA-PDC) program, started in late 2011 as an easy to use development program for member-only utilities to engage, train, and promote valued employees. Since then, fourteen participants have engaged in MEA committee participation, including taking a leadership position on a committee, attended MEA events each year, taken a dozen technical and at least six leadership courses online, managed a project for their utility and lastly, presented on that project to an MEA audience.
Tim Delaney was presented with the MEA-PDC at this year's Gas Operations Conference in Rochester. As part of his capstone project, Tim presented at the Gas Operations Conference. Tim provided details on the successful installation of over-pressure protection equipment at 82 Ameren locations; a project he managed.
MEA's Professional Development Certificate (MEA-PDC) program is designed to assist managers and their staffs to clearly identify and pursue developmental experiences for career growth. An MEA-PDC provides professional recognition of program completion. For more information, contact Shannon Miller at (651) 289-9600 x110 or shannonm (at) midwestenergy (dot) org.
About MEA:
MEA serves the people that deliver electricity and natural gas to homes and business. MEA (Midwest ENERGY Association) was founded as a trade association over 100 years ago by distribution utilities, whose vision was to improve safety and efficiency. Today, energy delivery companies around the globe benefit from MEA's industry learning seminars, operations summits, and other events. Members collaborated to develop EnergyU, the world's premier online training and testing system for energy delivery companies.