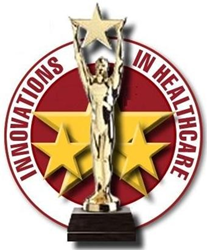 The Event recognizes innovative organizations and individuals who are dramatically reducing the cost of quality healthcare
Santa Ana, CA (PRWEB) October 09, 2014
Thomas J. Fogarty, MD, will keynote the 15th Innovations in HealthcareSM Leadership and ABBY Awards Event, on October 28, 2014, in San Francisco, where he will also receive the "Leadership in Innovation" Award. The Event, presented by the Adaptive Business Leaders (ABL) Organization, recognizes innovative organizations and individuals who are dramatically reducing the cost of quality healthcare.
Dr. Fogarty is the Founder of the Fogarty Institute for Innovation, Managing Director of Emergent Medical Partners, the Founder of 30 medical device companies, and holds 135 surgical instrument patents credited with saving the lives or limbs of over 20 million patients. He is also the Founder of Thomas Fogarty Winery and, as such, this will be the first Innovations Event to include Fogarty wine tasting.
Also at the Event, nine innovative healthcare companies (listed below) will compete for the 2014 ABBY Awards, which honor companies, selected from throughout North America, which have developed ways to lower the cost of providing quality healthcare through their medical or information technologies, or innovative approaches to the delivery of healthcare. The nine Finalists – three each in three categories – were selected by a committee composed of ABL Members who are C-level healthcare executives with deep domain knowledge in each of the Award areas.
Mimi Grant, President of ABL, and creator of the Innovations Awards Event 15 years ago, commented, "All nine Finalists are exceptional. To have even made it to the Finals they must have already demonstrated they are innovative, approved for use in the U.S. market, and - most important – have clinical and financial metrics that prove their product or service reduces the cost of providing quality healthcare. Increasingly, it will be innovative companies like these Finalists that will enable quality, accessible care, without breaking our national and personal piggy-banks."
Three ABBY Award Winners will be chosen via secret ballot by the healthcare executives attending the October 28 Event, after viewing presentations made by the CEO or senior executive representing each Finalist company. Attendance is open to ABL Members and their guests, as well as non-Member senior executives of healthcare providers and payers, health IT, medical technology, and services firms.
More details about the Innovations in HealthcareSM Leadership and ABBY Awards Event can be found here: http://www.abl.org/A/Events/2014_IIHAwardsEvent.htm
Finalists in the "Innovative Medical Devices/Diagnostic" category are:
San Francisco, CA's CrowdOptic, which provides video streaming software that allows Google Glass-wearing surgeons, clinicians, paramedics, diagnosticians, and clinical educators to share real-time views, creating a collaborative environment that is HIPAA-compliant, patented, and allows for HD broadcasts in real-time, with on-demand 8X digital zoom.
Westlake Village, CA's Cynvenio, whose LiquidBiopsy finds cancer cells in the bloodstream through a normal blood draw, then performs DNA sequencing of those cells for a highly precise description of that person's cancer, enabling healthcare providers to match patients with the most-effective therapy. The process can be repeated over time to measure response to treatment.
Santa Barbara, CA's TrueVision, whose intelligent, digital, 3D visualization and computer-guided software enables surgeons to view and record surgery in 3D and to stream live video of the surgical field. Particularly effective for microsurgery, TrueVision's 3D "surgical cockpit" information and navigation is completely integrated to the live surgical view in real-time.
Finalists in the "Innovative Approach to the Delivery of Healthcare" category are:
Los Angeles, CA's Compliagent Healthcare Solutions, which works with healthcare providers to develop, maintain, and monitor their regulatory compliance infrastructure, including development of customized programs; training; complaint investigation, remediation and resolution; audits; assessments; revisions and updates.
San Francisco, CA's Omada Health, whose Prevent® Online Diabetes Prevention Program helps people make changes necessary to reduce their risk for diabetes, by giving them access to the world's most effective, evidence-based behavior-change program, enhanced with smart technology and real, live coaches, delivered to their fingertips.
Los Angeles, CA's WiserCare, Inc., which offers 15 condition-specific, web-based modules that enable patients and their physicians to share in making smarter, faster, and more effective medical decisions, which has been shown to reduce inappropriate healthcare utilization, drive quality, and increase patient satisfaction with their provider and care experience.
Finalists in the "Innovative eHealth Solutions" category are:
San Francisco, CA's Doctor On Demand, which has produced an app, available via mobile and on the web, that enables individuals to quickly create an account, enter their symptoms and past medical history, and then instantly connect via video with a screened, board-certified physician, who can effectively treat the majority of conditions that patients present with in a traditional clinic or urgent care.
West Henrietta, NY-based eHealth Technologies, whose Connect Platform improves, expedites, and provides analytics for the entire patient referral process, streamlining referring physician communication and providing clinicians with any external medical record and image from within their workflow. It currently serves more than half of America's top 100 hospitals, and leading HIEs.
Durham, NC's Validic, which delivers actionable data for improving population health, via its Enterprise mHealth API that provides a simple connection to data from the best mobile health apps, wearables, and in-home medical devices. It's used by health systems, wellness companies, pharmas, providers, and payers to access verified patient health data to better manage and care for them.
Past "Leadership in Innovation" and ABBY Award Winners
Previous "Leadership in Innovation" Award Winners have included Steve Plochocki, CEO of Quality Systems, Inc./NextGen; Daniel Kraft, MD, CEO of Intellimedicine; Patrick Soon-Shiong, MD, CEO of NantWorks; Steve Case, CEO of Revolution Health Group; Steve Burd, CEO of Safeway Inc.; Kent Thiry, CEO of DaVita, Inc.; and Leonard Schaeffer, CEO of WellPoint Health Networks. Previous ABBY Award Winners include numerous companies that have made breakthroughs and transformative advances in medical devices, diagnostics, therapeutics, information technology, and electronic solutions, as well as organizations that have applied innovative systems and technology to providing care and coverage, decreasing the numbers of uninsured, and engaging healthcare consumers more actively in their care and health status.
About the Adaptive Business Leaders (ABL) Organization
For over 25 years, the Adaptive Business Leaders Organization (ABL) has helped its Members grow great companies through its Healthcare and Technology CEO Round Tables. Each month, Members leverage each other's skills, expertise, and connections, in a confidential, personal advisory board setting. During each session, Members share with their non-competitive peers, their best practices as they tackle topics like: "Resilient Management: How Healthcare Organizations Can Remain Positive in the Face of Challenge & Change," "Creating a Culture of Accountability," and "Lessons Learned in Accountable Care." Also, each session has a Featured Member or Guest Speaker who makes a Strategic Advisory Board presentation, imparting valuable insights and receiving leveraged feedback in return from the Group.
ABL Members are also encouraged to attend frequent ABL Workshops and Conferences. The largest of these is the Innovations in HealthcareSM ABBY Awards Event. Other events include the annual "Top Tech Trends," "Envisioning the Future of Healthcare," "Shaping Effective Boards of Directors," and "Today's Faster Ways to Grow Your Market." In addition to the Members' peer mentors, each Round Table's professional facilitator serves as an objective business advisor, offering executive and industry insights.
ABL's Healthcare Round Tables are held in Los Angeles, Orange County, San Diego, Silicon Valley, San Francisco, and Oakland. And the Organization's Technology Round Tables are held throughout Los Angeles and Orange Counties. More information about and testimonials from ABL Members can be found here: http://www.abl.org.