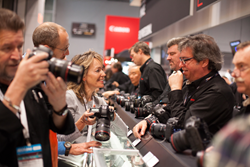 Saturday's seminars are focused on consumer interests ranging from secrets to taking great travel photos to tips for taking better action shots with a smartphone.
New York, NY (PRWEB) October 09, 2014
Photography and filmmaking have become more mainstream than ever – a record number of people are now using mobile phones to take and share images and this number will only get bigger. Recognizing this, PDN's 2014 PhotoPlus Expo will host several seminars and free presentations on Saturday November 1st for people who want to enhance their skill sets and make the most out of the technology they use.
The largest photography show in North America, PhotoPlus Expo is home to more than 225 exhibitors who will be displaying the latest in photo, video, and mobile imaging technologies. On Saturday, November 1, photography lovers of all levels are invited to the Javits Center to experiment with the latest imaging technologies, explore awe-inspiring photo galleries, and learn from world-class professionals about how to take better photos and videos from any imaging device. Admission to PhotoPlus Expo is free by registering online through October 28th.
Between conference seminars and show-floor presentations, Ben Folds – the multi-platinum singer/songwriter/producer will give the final keynote presentation from 12:30-1:30 p.m. performing several of his songs and sharing his experiences as a successful performer and how he fell in love with photography. Folds will share not only his music, but several of his images, explain how photography has become a creative extension of his musical art, and discuss how anyone can create an art of their own with photography and video. Tickets are $15 online and $20 on site. Admission to the keynote is included with the purchase of any PhotoPlus conference seminar pass.
"Mobile technology has let people define and share their lives in an unprecedented way. Communities have formed around image sharing and that is what PhotoPlus wants to help nurture," explains Lauren Wendle, vice president/publisher of PDN and the Photo+ group. "Our educational classes gives everyone opportunities to explore new and creative ways making images and/or video even more interesting and exciting. Saturday's seminars are focused on consumer interests ranging from secrets to taking great travel photos to tips for taking better action shots with a smartphone.
Seventeen conference seminars will be held on Saturday, November 1, each presented by some of the biggest names in the photo industry. For those who want to roam the floor, several booths will be hosting dynamic presentations and lectures at the Photography and In Motion Filmmaking Theatres; admission to the both Theatres will be included for those who register for an Expo Pass, free of charge before October 28. Conference seminars include:
Top Ten Secrets to Great Travel Photographs
(Saturday, November 1 – 10:15 a.m.—12:15 p.m.)
In this visually stunning presentation, Andy Katz will show you how to use the available light in your travels to produce breathtaking images. Learn how to find the best light in any environment, what to look for and what to avoid, and how to choose the best places and times to shoot. Katz will also discuss the best ways to approach subjects. Finally, he'll share his top ten secrets for getting powerful travel photos every time. This session is ideal for those looking to take their travel photos from good to great or from great to extraordinary. Sponsored by Sony
How to Take Better Pictures with Your Mobile Device
(Saturday – November 1 – 2:00 pm. -4:00 p.m.)
Mobile phones have become a valuable creative tool that allows us to explore, capture, and create photos and videos in a fun and easy manner. During this presentation a panel of experts will share new and creative ways to photograph with your smartphone, how to use a variety of imaging applications to process panoramas and collages, and to apply numerous creative effects for stunning results you can't wait to share with the world. The panelists will offer tips about the latest shooting and creative apps and address how to process and publish images meeting the highest visual standards.
Earth is My Witness
(Saturday – November 1 – 2:00 pm. -4:00 p.m.)
Nature photographer Art Wolfe's definitive opus, Earth Is My Witness, represents forty years of expeditionary photography. For the first time, Wolfe presents the three subjects at the heart of his work—landscapes, wildlife, and cultures on the edge of extinction—in a single masterpiece that takes us through the world's ecosystems and geographical regions in a vivid display of the fragility and interconnectivity of life on Earth, while simultaneously exploring his evolution as an artist and the techniques he uses to capture the nuances and rhythms of nature. Sponsored by Leica
More than 225 Exhibitors
(Saturday, November 1 – 10:00 a.m. – 4:00 p.m.))
Beyond the extensive list of seminars lies an entire seventy-five thousand square foot expo show floor where the latest imaging devices and accessories from more than 225 exhibitors and presenters will be demonstrated, including Adobe, Canon, Epson, Fujifilm, Hasselblad Bron, Leica, Olympus, Panasonic, Nikon, Sigma, Sony and Tamron among many others. Beyond the latest camera and printing technologies and software, consumers will see drones designed for photos systems.
Consumers are encouraged to register online in advance as admission to the expo is free. Alternatively, registration onsite for the expo costs $70 per person. All seminars that are part of the conference program cost $99 each if purchased online in advance or $149 each if purchased onsite. A one-day conference seminar pass costs $199 for unlimited access to seminars, including the keynote presentation that day, if purchased online in advance or $249 if purchased onsite.
For more information or for frequent updates, visit the PhotoPlus Expo website, become a fan on Facebook, or follow PhotoPlus Expo on Twitter.
Web site: http://www.photoplusexpo.com
Facebook: http://www.facebook.com/photoplusexpo
Twitter: http://www.twitter.com/photoplusexpo
About PDN PhotoPlus International Conference + Expo
Designed for professionals in the photographic and imaging industries and photo hobbyists, PhotoPlus Expo showcases the latest advances in photography, digital imaging and filmmaking. Held annually at the Javits Convention Center, attendees have the opportunity to explore an inspiring array of photography and imaging products and services — everything from image capture and color management to retouching and storage — all from the industry's leading manufacturers. The show also offers seminars and intimate Master Classes taught by world-renowned experts that focus on cutting-edge innovations and techniques.
# # #