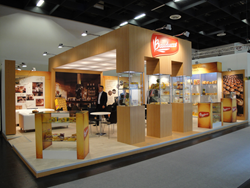 It is becoming more and more important to have a global presence and ISM is a great open door into the sweets and snacks trade.
Tustin, CA (PRWEB) October 08, 2014
The future of the confectionery world begins at the ISM 2015 with the entire product range of sweets and snacks, with all the innovations and trends and with an increased focus on new trend themes. In just four days, get an overview of the global range of sweets and snacks. The early date for the trade fair at the beginning of the year allows you to consider all seasonal businesses and to plan precisely for the complete forthcoming year. Areas of discovery will include - organic, private labels, fair trade, Halal, Kosher, sugar-free, allergy-friendly, functional, artisan production, limited editions and impulse packaging. In 2014, the ISM brought together more than 1,400 suppliers from 70 countries, with over 35,000 trade visitors from 140 countries.
It is becoming more and more important to have a global presence and ISM is a great open door into the sweets and snacks trade. Absolute Exhibits has a list of key European shows by industry for prospective clients to consider. Working with a US based Absolute Exhibits account executive in your native language and at local hours relieves much of the stress of exhibiting overseas. Absolute Exhibits has in house exhibit designers based both in the USA and Europe, as well as a fabrication association in Europe that will meet customers' needs on every level on the European show floor.
The Absolute Exhibits' European team is multilingual and travels with our clients to each show. Absolute Exhibits offers innovative trade show display solutions while remaining budget conscious. The hallmark of working with Absolute Exhibits is beyond compare and that holds true with our European counterparts. Current monetary exchange rates are quite favorable, and the reception for American services and products are in high demand outside US borders. A partnership with Absolute Exhibits Europe will make your first time exhibition a rewarding experience.
About Absolute Exhibits
Absolute Exhibits, established in 2000, rents and sells large custom exhibits at over 300 shows in the USA and in countries around the world. Absolute Exhibits is dedicated to providing distinctive marketing settings as well as pre-and-post show and event marketing and support services for our clients. At Absolute Exhibits every aspect of the exhibition project is handled using in-house resources and every question is answered in-house, as well. Absolute Exhibits is a true one-source exhibit house.