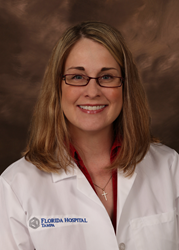 I am honored to join an Accredited Breast Imaging Center of Excellence and team of professionals here at Florida Hospital Tampa that deliver quality patient care day in and day out
Tampa, FL (PRWEB) October 08, 2014
Florida Hospital Tampa welcomes Dr. Melissa Geck as the new Medical Director to the Breast Care Center and invites women to join the fight against Breast Cancer by attending tonight's community seminar "Pink at the Podium." The seminar will take place from 5:30pm to 8pm tonight at Florida Hospital Tampa's Wallace Center. Dr. Geck is board certified in Radiology and received her medical degree from Medical College of Wisconsin. She completed her residency at USF and breast fellowship at Moffitt Cancer Center. Dr. Geck joins a team of professionals committed to providing a comprehensive program focusing on breast cancer prevention, detection, treatment and recovery with board certified radiologists. The Florida Hospital Tampa Breast Cancer Center team includes Dr. Ronald Prati who serves as Medical Director/ Body Imaging, Dr. David Rippe, Radiologist/Neuroradiology and Dr. Lukas Blignaut, Radiologist/PET CT Radiology.
"I am honored to join an Accredited Breast Imaging Center of Excellence and team of professionals here at Florida Hospital Tampa that deliver quality patient care day in and day out," said Dr. Geck. " I look forward to becoming an integral part of Florida Hospital Tampa's comprehensive program focused on the education, prevention and treatment of breast disease and caring for patients and families in the Tampa Bay community." Florida Hospital Tampa's Breast Care Center is an ACR (American College of Radiology) facility, fully accredited in mammography, stereotactic breast biopsy, breast ultrasound, ultrasound-guided breast biopsy, breast MRI and MRI-guided breast biopsy. The center also provides state-of-the-art technology, including 2D Mammography and 3D Mammography, which allows the earliest possible detection of breast cancer. The Center is dedicated exclusively to breast care and creating awareness in the community about the importance of getting a mammogram.
This will be a featured topic at the "Pink at the Podium" seminar this evening. Breast cancer survivors will share their personal stories of hope and healing. Breast Cancer is the second leading cause of cancer deaths among women, exceeded only by lung cancer according to the American Cancer Society. While one in eight women will be diagnosed with breast cancer in their lifetime-the survival rates are encouraging and continue to increase. A panel of clinical experts will discuss the importance of early detection and identify available resources for breast cancer patients and survivors. Participants will also get the chance to tour the Breast Care Center, sign up to become an official Pink Army Soldier, and schedule a mammogram.
"The Pink Army is a Florida Hospital statewide effort to increase community awareness about early detection and prevention of breast cancer," said Michelle Robey, Florida Hospital Tampa's Director of Marketing. "We're enlisting a literal army of people who are engaged in a fun, rewards-based program that allows enlistees to move up in the ranks and complete missions of spreading the word and creating greater awareness about the life-saving benefits of annual mammograms and early detection of breast cancer."
Early detection is the best form of prevention. One hundred percent of the proceeds donated through the Pink Army initiative go to the Florida Hospital Breast Care Fund. Each mission helps save a life and moves you in in rank. Go from Private to General in the Pink Army by completing your missions and helping to educate women about the importance of screening mammograms. Join us for the "Pink at the Podium" seminar this evening. Register today by calling (813) 615-7300 or visit http://pink-at-the-podium.eventbrite.com to reserve your space. The seminar will take place at Florida Hospital Tampa, Wallace Conference Center located at 3100 East Fletcher Avenue in Tampa.
About Florida Hospital Tampa
Florida Hospital Tampa is a not-for-profit 475-bed tertiary hospital specializing in cardiovascular medicine, neuroscience, orthopaedics, women's services, pediatrics, oncology, endocrinology, bariatrics, wound healing, sleep medicine and general surgery including minimally invasive and robotic-assisted procedures. Also located at Florida Hospital Tampa is the renowned Florida Hospital Pepin Heart Institute, a recognized leader in cardiovascular disease prevention, diagnosis, treatment and leading-edge research. Part of the Adventist Health System, Florida Hospital is a leading health network comprised of 23 hospitals throughout the state. For more information, visit http://www.FHTampa.org.