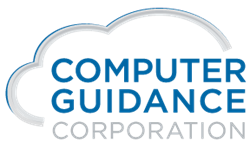 "Our team estimates 10-15% productivity gains because we could forgo the management and maintenance of our ERP system." Mike Laird, President, BRB Contractors, Inc.
Scottsdale, AZ (PRWEB) October 09, 2014
Computer Guidance Corporation, a leading developer of ERP software solutions for the construction industry, today announced that BRB Contractors, Inc. was recognized on Friday, October 3, 2014 as a 2014 Vision Award winner by Constructech magazine. Computer Guidance Corporation was named as its technology enabler. This year, the winners and their solution providers gathered at the Sofitel San Francisco Bay in California.
The Constructech Vision Awards acknowledge companies that have stayed up-to-date on the latest trends and products in order to make decisions that have helped their businesses succeed and thrive.
"From commercial to residential, owner to contractor, there is one point they can all agree on: It is all about the data. How do you harness it? What insights can it provide on a job? How can it make a company more profitable?" said Peggy Smedley, editorial director, Constructech. "The 2014 Vision Award winners have found ways to answer these questions, and it can be seen in their success."
BRB Contractors, Inc. earned the Bronze Award in the Heavy Highway/GC Category for the implementation of Computer Guidance's Cloud-based, Hosted eCMS ERP software bringing immediate business continuity and additional functionality to the organization in a cost-effective way. The accelerated implementation was a result of an IT infrastructure failure that took place just before beginning the planning of their hosted, cloud-based implementation project. Within a week, the heavy highway contractor was live on Computer Guidance's Hosted eCMS ERP system without missing a beat in overall financial and operational performance.
"We are pleased to be recognized at the Constructech Vision Awards for our cloud-based ERP implementation," stated Mike Laird, President, BRB Contractors, Inc. "Our team estimates 10-15% productivity gains because we could forgo the management and maintenance of our ERP system. Now our financial administration team is focused on the task at hand and not on IT-related items, bringing additional benefits to our overall financial and operational performance."
"This award a true validation of our growing presence and extensive expertise in the cloud-based software market," said Mike Bihlmeier, President, Computer Guidance Corporation. "Our cloud-based, hosted ERP software solution and supporting industry-best infrastructure and data center environments allow our customers to take advantage of our feature-rich ERP platform while gaining significant cost-savings and operational flexibility."
About Computer Guidance Corporation
Computer Guidance is the software development expert for construction enterprise resource planning solutions. In business since 1981, Computer Guidance has provided its customers with construction financial and project management applications supported by industry-leading business intelligence and analytics applications and advanced productivity tools. Computer Guidance is a premier Business Partner of IBM Corporation, providing a solid technology foundation for both its cloud-based, hosted and on-premise solutions. Hundreds of commercial contractors have implemented Computer Guidance ERP achieving quantifiable benefits year after year. Many Computer Guidance customers are represented among the Engineering News-Record Top 50, 400 and 600 and the On-Site Top 40. Computer Guidance's construction software expertise has led the Associated General Contractors of America to select Computer Guidance's solutions as the ERP solution of choice for its members. eCMS has also been acknowledged by the CFMA IT Survey, ranking its job cost, accounting and payroll applications as the number one software for commercial contractors. In 2013, Computer Guidance received a silver Contractor's Choice award from Roads & Bridges magazine recognizing eCMS as one of the most widely implemented ERP solutions among its readership.
Computer Guidance Corporation became a member of JDM Technology Group in January 2014. JDM Technology Group is a global software business that is exclusively in Construction with 40,000 users served, in 40 countries and in 6 continents, employing 250 staff. JDM Technology Group's core business philosophy is long-term commitment to customer service, coupled with providing the best possible solutions to customers.
For additional information, visit http://www.computerguidance.com or call 888.361.4551.
###
eCMS is a registered trademark of Computer Guidance Corporation, member of the JDM Technology Group.