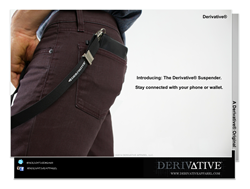 Everything comes from something.
Santa Monica, California (PRWEB) October 09, 2014
Derivative® is proud to announce the launch of their online store, http://www.DerivativeApparel.com. Founded by Justin Sena, a Santa Monica local with a passion for turning nothings into something's, the line turns heads with clothing and accessories made out of everything from guitar strings to recycled bottles. Derivative's concept is that everything comes from something; each piece in the line is a derivative of something else that once was before it experienced a transformation, which Derivative® cleverly depicts in their logo with a delta, a symbol of change.
Inspired by artists, musicians, and local creators, Derivative® is dedicated to offering creative fashion for creative souls. The brand collaborates with artists and creators to produce and distribute products that change the way you think about wearing your clothes. Key items include fashion sleeves, suspenders for your wallet or new iPhone 6, and hoodies made out of recycled bottles.
In addition to the line, Derivative® will spend ample time giving back to local youth. The entire team is extremely passionate and dedicated to supporting organizations dealing with troubled, homeless, and less fortunate young adults in the hopes to inspire and create future artists and makers. A charity program is currently in the works and the tube packaging used to ship Derivative® products to customers can be recycled into piggy banks for collecting money to support featured causes. Artists & musicians are joining in on the fun creating their own tubular twist in the making of Derivative® packaging.
In the cutthroat world of fashion, Derivative® is a brand on their own beat. If they like it, they sell it. Look towards Derivative® to consistently offer fresh, innovative, and resourceful designs.