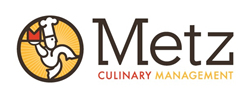 Dallas, Pa. (PRWEB) October 08, 2014
Metz Culinary Management, one of the top 20 food management companies in the nation, is now exclusively serving line-caught tuna to all of its partners in the business and industy, school district, higher education and healthcare industries. Line-caught tuna, opposed to net-caught tuna, is more sustainable for the environment and produces a higher quality product.
"Metz strives to be at the forefront of environmental vision and principles and we believe in providing our customers with sustainable and high-quality products, even when there is added expense," said Craig Phillips, VP of Purchasing for Metz Culinary Management. "Metz wants to act responsibly now to create a sustainable future and line-caught tuna is a step in that direction. We feel that sticking to these principles outweighs higher financial costs."
According to the International Pole and Line Foundation (IPNLF), line-caught tuna, sometimes called pole-caught tuna, are caught using a fishing line opposed to a net. It is a more targeted approach, where only the desired fish is caught. When using a net, many other undesired fish and sea life are caught, killed and discarded. Line-caught tuna is the more sustainable choice over net-caught brands.
The IPNLF also supports that the quality of line-caught tuna is much better than that of net-caught tuna. Using a fishing line allows each tuna to be caught more quickly, preserving the meat and providing a fresher, less fishy taste.
Line-caught tuna is the lastest product Metz has adopted as part of its company-wide greener, eco-friendly initiative. Metz recently announced it will serve "Just Mayo," an egg-free mayonaisse option that replaces animal products with plant products, as its exclusive mayo product. By 2017, or sooner if products become readily available, Metz Culinary Management will purchase pork products only from suppliers that do not use gestation crates. Metz has switched all of its shell eggs (well over a million a year) to cage free, and is in the process of making the move with liquid eggs as well.
The food management company is also supporting Clemens Food Group's "Farm Promise" program, a three-step verification process which ensures crate-free communities, product traceability back to the farm and quality of life for the animals, including humane care, optimized diets, and a protected, safe environment at each stage of their lives.
About Metz Culinary Management
Metz Culinary Management provides dining and environmental management services for clients in a variety of settings, including hospitals, public and independent schools, colleges, long-term care facilities, corporate offices and manufacturing facilities. Metz is a family-driven company that collaborates with its clients to deliver restaurant-inspired hospitality to each and every guest. Food Management Magazine named Metz one of the Top 20 Management Companies in the U.S. and one of the Top 5 Firms to Watch. For more information on Metz Culinary Management, visit http://www.metzculinary.com.
###