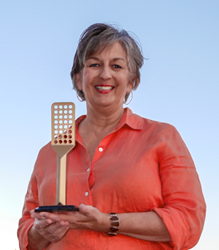 Function over fad always wins. Jennifer Morrison, Ginny Gordon's Gadgets
Lima, OH (PRWEB) October 09, 2014
Recently Berndes Cookware presented a special Golden Spatula to Ginny Gordon's Gadgets store as our #1 Berndes Item 9011 Spatula Selling Store in the United States. Located in Morehead City, NC, Ginny Gordon's Gadgets is more than just a kitchen store they are a family-owned business that takes pride in 'must have' items for your kitchen.
The Berndes spatula is a very popular cooking utensil but it holds great importance to Ginny Gordon's Gadgets. Jenny Morrison of Ginny Gordon's Gadgets is passionate about the Berndes Spatula, introducing it to almost every customer that walks in their store … that is what makes Ginny Gordon's Gadgets our #1 Spatula Fan.
"Whether we call it Berndes item 9011, the black spatula or absolutely, positively, the best spatula you'll ever use, the bottom line is that it is a proven workhorse day in and day out in many kitchens. Since 1985, we have kept a container of black spatulas front and center at our main counter since day one. Customers that aren't familiar with the qualities of the spatula will pick it up; ask questions and more than likely head out the door with one. If new customers, they usually return to purchase for gifts or duplicates for their own use. During the holidays it is the number one item for shipping to customers. The black spatula image continues to be our signature advertisement. Who would have guessed that a simple but perfectly designed tool would gain such attention! Function over fad always wins." –Jennifer Morrison, Ginny Gordon's Gadgets
To see the Berndes Cookware 9011 Spatula featured at Ginny Gordon's Gadgets go to: http://ginnygordons.com/products.html
About Berndes
Berndes has developed produced and distributed cookware since 1921 and is the largest pan manufacturer in Germany, as well as the world-marketing leader in nonstick coating cookware made of cast aluminum. The high quality, award-winning range made of cast aluminum, spun aluminum and stainless steel is exported worldwide and has been distributed through qualified channels for decades.
With a marketing strategy that focuses on people with an affinity for cooking and appeals to the emotions, Berndes is set for success. As has always been the case, production is carried out at the company headquarters in Arnsberg, Germany. These processes only use materials that do not affect the environment, resources or health. The in-house test laboratory conducts continual quality controls accompanying production. Neutral test institutions both attest the company's high quality standards repeatedly domestically and abroad.