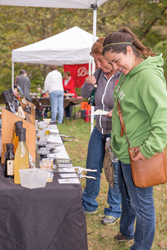 "In 2013, Hagley Craft Fair celebrated its 35th year and a new tradition began, a specialty food market," explains Hagley Craft Fair Coordinator Bonnie Wirth. "The market was so successful that it will be expanded this year."
Wilmington, Delaware (PRWEB) October 10, 2014
Hagley Museum and Library's annual Craft Fair returns on October 18 and 19 with regional artisans displaying a selection of hand-crafted jewelry, textiles, glass, wood, and pottery. For the second year, the Craft Fair will include a specialty food market featuring high-quality and unique culinary items. Shoppers seeking distinctive gifts and one-of-a-kind art can visit the Hagley Craft Fair on October 18 and 19, 2014, from 10 a.m. to 5 p.m. on Saturday and 10 a.m. to 4 p.m. on Sunday. Admission is $5 and free for members and children under six years old. Use Hagley's Buck Road East entrance off Route 100.
"In 2013, Hagley Craft Fair celebrated its 35th year and a new tradition began, a specialty food market," explains Hagley Craft Fair Coordinator Bonnie Wirth. "The market was so successful that it will be expanded this year."
The specialty food market will feature such artisans as Brian and Andrea Polizzi of West Chester, Pennsylvania-based Waffatopia specializing in Liege waffles; Krista Scudlark of Milton, Delaware – based Backyard Jams and Jellies; and Adrienne Gage of Middletown, Delaware-based Gage Family Beekeeping specializing in pure, raw honey harvested locally.
The weekend festivities include a raffle of items donated by each artisan. Each visitor will have the opportunity to win as a benefit of coming to the Craft Fair. Shoppers will receive additional raffle tickets with each purchase.
This marketplace of fine crafts and specialty foods is held on Hagley's upper property in the Soda House, Library, and on the grounds surrounding the buildings. Free shuttle service is available between both buildings.
Visitors can take a break from shopping and enjoy lunch or a snack. The Belin House Organic Café will have food available for purchase at the library building and Soda House.
At Hagley, we invite people of all ages to investigate and experience the unfolding history of American business, technology, and innovation, and its impact on the world, from our home at the historic DuPont powder yards on the banks of the Brandywine.
For more information, call (302) 658-2400 weekdays or visit http://www.hagley.org.
###