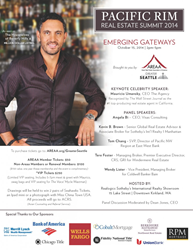 "We are thrilled to host such a dynamic series of industry experts exploring the Seattle/Bellevue metro area's emergence as a global city on the rise and a US gateway for Asia." - Justin Kim
Kirkland, WA (PRWEB) October 08, 2014
The Greater Seattle Chapter of the Asian Real Estate Association of America (AREAA) formally announced today its first annual Pacific Rim Real Estate Summit entitled "Emerging Gateways" to be hosted on October 15, 2014 at the Connoisseurs of Life Showroom, located at 15 Lake Street in downtown Kirkland. Title sponsor Merrill Lynch welcomes keynote speaker Mauricio Umansky, CEO of Los Angeles-based The Agency to present trends on international home buying, global citizenship and emerging gateway markets.
"We are thrilled to host such a dynamic series of industry experts exploring the Seattle/Bellevue metro area's emergence as a global city on the rise and a US gateway for Asia," said Justin Kim, President of the local AREAA chapter. "This is a timely subject now that international home buying trends here in the Pacific Northwest are headline news, not to mention our lifestyle is arrayed overseas in the hit Chinese movie Beijing Meets Seattle."
Industry experts presenting their market observations will be followed by a panel discussion hosted by Dean Jones, CEO of Realogics Sotheby's International Realty. They include:

Angela Bi – Principal, Visa Consulting Group of Shanghai & Vancouver, BC
Kevin Brown – Senior Vice President & Global Real Estate Advisor, Sotheby's International Realty I Manhattan
Tere Foster – Managing Broker, Premier Executive Director, CRS, GRI for Windermere
Wendy Lister – Vice President, Managing Broker for Coldwell Banker Bain
Tom Chang – SVP, Director of Pacific NW Region at East West Bank
According to research by the National Association of Realtors, international home buying trends indicate that Canadians may buy more homes in the US but the Chinese spend more in aggregate. International sales in the US are expected to represent $92.2 billion in 2014 and Washington State is among the fastest growing markets for foreign buyers. Meanwhile, Census data reveals Asians are the fastest growing demographic in Washington. In many Eastside communities, including the city of Bellevue, Asians now comprise 30-percent of the population, spurring a rise in Mandarin-speaking brokers specializing in international buyers. Recently the New York Times estimated that 40% of the Eastside homes valued above $1 million were sold to Chinese homebuyers.
During the October 15 event, which is expected to draw more than 250 attendees, a media conference is scheduled for 1:00pm followed by the events program at 2:00pm. Among the VIP appearances expected will be Leah Li, a former Miss Chinese Seattle Queen representing the Greater Chinese Chamber of Commerce. An "After-Glow" party, presented by Union Bank, will be held in the adjacent Maison DeLille wine lounge from 5:00pm to 7:00pm and feature select vintages by DeLille Cellars and musical entertainment by Mycle Wastman, a memorable contestant on NBC's "The Voice" during the 2012-13 season.
Program sponsors include Merrill Lynch, Bank of America, Union Bank, Wells Fargo, Cobalt Mortgage, Berkshire Hathaway, Chicago Title & Escrow, RPM Mortgage and Fidelity Title. Seattle Magazine is the media sponsor. Venue sponsors include Realogics Sotheby's International Realty and Maison Delille.
AREAA has selected Asian Counseling and Referral Service (ACRS) as a benefitting charity for this event. ACRS is a nationally recognized nonprofit organization offering a broad array of human services and behavioral health programs to Asian Pacific Americans in King County. ACRS is the largest multiservice organization serving all the different Asian Pacific American communities – immigrants, refugees and Americans born in the Pacific Northwest.
For more information and to purchase tickets visit: AREAA.org/GreaterSeattle
About AREAA – Founded in 2003, the Asian Real Estate Association of America (AREAA) is a nonprofit professional trade organization dedicated to promoting sustainable homeownership opportunities in Asian American communities by creating a powerful national voice for housing and real estate professionals that serve this dynamic market. AREAA will accomplish this mission by: Advocating for policy positions at the national level that will reduce homeownership barriers facing the APA community. Increase your business opportunities for mortgage and real estate professionals that serve this growing community.
EDITORS NOTES: For high-resolution photography contact Andrea Savage at 206.448.5752 or email Andrea.Savage(at)SothebysRealty(dot)com.