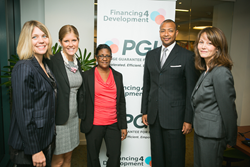 Washington, DC (PRWEB) October 09, 2014
Pledge Guarantee for Health (PGH) today joined forces with Calvert Social Investment Foundation and pan-African banking group Ecobank to announce US$50 million in credit to accelerate delivery of life-saving health supplies in the developing world. A US$10 million credit facility with Calvert Foundation is now available to non-profit borrowers in 126 countries, while a US$40 million facility with Ecobank will provide financing to health and finance ministries in 36 countries across sub-Saharan Africa.
Through a five-year, US$100 million partial guarantee provided by the United States and Swedish governments, PGH unlocks private sector financing to maximize the impact of each dollar of donor funding, ultimately improving health access and outcomes for the millions who are helped by foreign aid. In collaboration with creative financiers like Calvert Foundation and Ecobank, PGH is able to create credit facilities for the benefit of non-traditional borrowers.
Lending under this new credit facility will be geared toward donor aid recipients, particularly international non-profits and ministries of health and finance. PGH, Calvert Foundation, and Ecobank will work actively with non-profit and governmental beneficiaries of donor funding to structure short-term, low-cost financing on the basis of approved donor pledges. By smoothing out the timing of health aid disbursements, recipients will be able to procure essential health commodities based on projected need, resulting in increased efficiencies in pricing and quality, accelerated delivery, and, ultimately, more lives saved.
As another measure of cost-saving and risk-sharing, PGH maintains partnerships with commodity manufacturers that have committed to provide upfront financing rebates to customers who utilize PGH. These rebates allow beneficiaries to access the advantages of accelerated procurement, while offsetting the financing costs associated with borrowing. PGH currently maintains five supplier partners: Bayer, Corporate Channels India, Cupid Ltd, Merck/MSD, Pregna International, and Vestergaard.
In addition to improving health service delivery in the near-term, Calvert Foundation and Ecobank's participation in this partnership represents a significant step toward increasing sustainable access to finance in developing countries. By utilizing PGH's lending model, these banks are able to test the market in a lower risk environment to better understand the true risk associated with receivables financing on the basis of committed donor funding. Through their leadership, it is anticipated that after the five-year life of the PGH guarantee, commercial lenders will have amassed enough evidence to continue this model of lending without requiring a guarantee, thus building the foundation for a truly sustainable solution in the area of international development.
PGH was represented by Catherine McCarthy, Elizabeth Serio, and Robert Richardson of Clifford Chance LLP.
Jennifer Pryce, President and CEO of Calvert Foundation, said: "We are thrilled to partner with PGH to provide a bridge solution to the financing needs of international NGOs. We hope that this available facility enables more efficient purchasing of vital health commodities and proves that there is a market for this kind of receivables financing in the field of global public health."
Albert Essien, Group CEO of Ecobank, commented: "By partnering with PGH, Ecobank is helping to accelerate access to life-saving medicines, vaccines, and bed nets through affordable access to financing. As the pan-African bank, we know that this will make a tremendous impact in the countries and communities where we operate."
Aron Betru, Managing Director of PGH, said: "For PGH, the Calvert Foundation and Ecobank partnerships represent a key milestone in moving from a concept to a highly effective tool. These credit facilities provide real support to ministries and NGOs in accelerating access to essential health commodities for their communities. It is our utmost mission to support country leadership with innovative resources to bring results forward, faster."
Ms. Catherine McCarthy, Partner at Clifford Chance, added: "Clifford Chance is delighted to have been involved with PGH's innovative financing solutions."
###
About Pledge Guarantee for Health
Pledge Guarantee for Health is an innovative financing partnership designed to increase the availability and predictability of funding from international donors for health commodities. Through a five-year partial guarantee from the governments of the United States and Sweden, PGH is able to leverage US$100 million in credit from commercial banking partners which, in turn, extend short term credit to traditional donor aid recipients. Recipients are empowered to use donor committed funding in advance of disbursement, resulting in increased buying power, greater value, accelerated procurement and delivery, and, ultimately, more lives saved. For more information, visit http://www.pledgeguarantee.org.
About Calvert Foundation
Calvert Foundation enables people to invest for social good. Through its flagship Community Investment Note, Calvert Foundation has raised US$1 billion in investment from more than 15,000 investors to invest in hundreds of nonprofits and social enterprises worldwide. Investor dollars empower women, fund the construction of affordable housing, provide loans to small business owners, increase access to healthcare, and support fair trade and sustainable agriculture. http://www.calvertfoundation.org
About Ecobank
Incorporated in Lome, Togo, Ecobank Transnational Incorporated (ETI) is the parent company of the leading independent pan-African banking group, Ecobank. It currently has a presence in 36 African countries, namely: Angola, Benin, Burkina Faso, Burundi, Cameroon, Cape Verde, Central African Republic, Chad, Congo (Brazzaville), Congo (Democratic Republic), Côte d'Ivoire, Equatorial Guinea, Ethiopia, Gabon, Gambia, Ghana, Guinea, Guinea Bissau, Kenya, Liberia, Malawi, Mali, Mozambique, Niger, Nigeria, Rwanda, Sao Tome and Principe, Senegal, Sierra Leone, South Africa, South Sudan, Tanzania, Togo, Uganda, Zambia and Zimbabwe. The Group employs 19,200 people from 40 different countries in 1,250 branches and offices. Ecobank is a full-service bank providing wholesale, retail, investment and transaction banking services and products to governments, financial institutions, multinationals, international organisations, medium, small and micro businesses and individuals. Additional information may be found at http://www.ecobank.com.
Media Contacts
Pledge Guarantee for Health: Paige Robson, probson(at)pledgeguarantee(dot)org, +1 952 836 5202
Calvert Foundation: Andrew Parrucci, andrew.parrucci(at)calvertfoundation(dot)org, +1 301 280 6074
Ecobank: Mireille Bokpe, mbokpe(at)ecobank(dot)com, +228 22 21 03 03