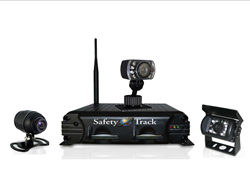 You Can't Change What You Can't See
Belleville, MI (PRWEB) October 09, 2014
Safety Track has been a leader in the GPS Fleet Tracking and Fleet Safety since 2002. With the Release of the UCIT (you-see-it) Camera system, the first live streaming 3g fleet Camera System in North America, companies all over the US, Canada, Mexico and Africa have taken advantage of this new Technology.
Now Safety Track is in need of your help.
Safety Track is in the final running for a $150,000 Developmental Grant from Chase Bank.
All that is need is 250 votes to get Safety Track the opportunity to be considered.
This grant would provide the needed funding to increase manpower to bring this fleet camera to market.
The UCIT Pro will bring the next level of Fleet Safety to the Logistic and Distribution Markets.
100's, if not 1000 of lives are lost each year in highway accidents. Driver Distraction is the leader cause of these type of fatalities. The UCIT PRO will give Fleet owners and Fleet managers the ability to "ride" along with their drivers. improving training, process and procedures, with the ability to actually see what is happening inside their fleet vehicles.
Click the link and enter in Safety Track in the business name.
Simply click and the vote is cast.
No information will be taken, stored or used. Promise.
By voting, you will have a hand in making our roads a safer place.