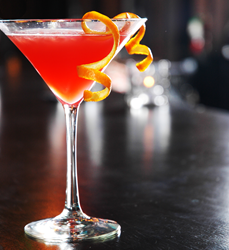 The next time a guest of ours is delayed, we will respond with a warm gesture.
Oak Brook, IL (PRWEB) October 09, 2014
The Hilton Chicago/Oak Brook Hills Resort & Conference Center is introducing a new plan to help relieve some of the tension that comes along with air travel these days. Starting today, guests who experience a flight delay of any sort, inbound or outbound, will be offered a Delayed Response food and beverage discount.
"The challenges that come along with flying today impact most of us at some point," said Stefan Mühle, General Manager at Hilton Chicago/Oak Brook Hills Resort & Conference Center, which is less than 30 minutes from both O'Hare and Midway International airports. "The next time a guest of ours is delayed, we will respond with a warm gesture and show them Oak Brook Hills cares."
As such, Mr. Mühle and his staff are offering guests 10%-off on all hotel food and beverage items for one hour flight delays, 25%-off for two hour flight delays, and 50%-off for flight delays that exceed three hours. The process for redemption is simple; guests need only verify their delay with the front desk, and in turn they will receive a Delayed Response voucher – valid at any of the hotel's F&B outlets during the duration of their wait (for outbound delays) or duration of their forthcoming stay (for inbound delays).
Rather than proceeding to the airport for the impending wait, or alternatively after arriving at the hotel weary following a delayed flight experience, guests are invited to "decompress" at either of the scenic suburban retreat's two seasonally-inspired restaurants, café or lounge that overlooks the peaceful 150 acre estate and Audubon-certified Championship Golf Course. The Delayed Response discount offer applies to everything Executive Chef Sean Patrick Curry's kitchen cooks for breakfast, lunch or dinner, from Strawberry Honey Pancakes served with vanilla crème, whipped butter, organic strawberries, and local honey (harvested from beehives on property as of 2015) to an Aurora Angus Burger served on a freshly baked pretzel roll with caramelized onions, cremini mushrooms, shiitake mushrooms, and sweet potato fries. Additionally, Delayed Response partakers can choose from a wide variety of hand-crafted cocktails, local designer beers or high end wines at the Lobby Lounge, from the Swinging Piglet (bacon-infused tin cup American whiskey, maple syrup, angostura bitters, and orange) to Opus One. Full food and beverage menus are available upon request by contacting jody(at)grimaldipr(dot)com.
Hilton Chicago/Oak Brook Hills Resort & Conference Center currently offers dining options catered to travelers of all kinds. From 11 a.m. to 10 p.m. daily, guests can savor the resort's farm-to-table culture at The Grille, serving local meats and cheeses in appetizers, salads, sandwiches, burger, flatbreads and more. During the warmer months, The Grille Patio is open for guests to relish the scenic resort while enjoying innovative dishes made with only the freshest ingredients. The resort chic Windows restaurant has something for every appetite, at every time of day, while the Lobby Café offers a variety of invigorating beverages, including an array of espresso offerings, iced/frozen/blended coffee and tea specialties, and Starbucks. Guests looking to enjoy a cocktail can visit the Lobby Lounge for signature drinks made with fresh squeezed juices and garnishes, all while overlooking the lavish Willow Crest Golf Club. Hilton Chicago/Oak Brook Hills Resort & Conference Center also offers guests a delicious, chef-driven room service menu.
About Hilton Chicago/Oak Brook Hills Resort & Conference Center:
Just west of downtown Chicago, nestled into the quiet suburb of Oak Brook, Illinois, Hilton Chicago/Oak Brook Hills Resort & Conference Center (3500 Midwest Road, Oak Brook, IL 60523) offers an ideal destination for getaways, golf trips, family vacations and wedding or business events. With over 42,500 square feet of IACC Certified meetings and events space, the hotel is an ideal venue for business meetings, conferences, retreats, banquets and social events of any kind. The 348 rooms and 38 suites are complemented with meeting and event spaces, exercise facilities, indoor and outdoor swimming pools and several dining options. Rooms can be booked by visiting http://chicagooakbrookhills.hilton.com. For more information, please call the hotel direct at 630.850.5555 or visit its Facebook or Twitter.
About Portfolio Hotels & Resorts:
Headquartered in Westmont, IL, Portfolio Hotels & Resorts is a hospitality management company experienced in managing unique, boutique-style hotels, destination resorts and significant branded urban hotels in major domestic and destination markets. The company was established in 2005 by former Chicago-based Coastal Hotels founders Helmut Horn and Graham Hershman, industry veterans whose past experience includes development of the Hawthorne Suites brand, the Highlands Inn in Carmel, CA, and Cheeca Lodge in the Florida Keys. For more information about the company, visit http://www.portfoliohotels.com.