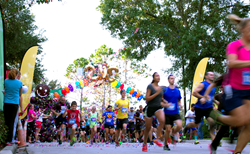 It touches your heart to see our precious wish children and their families rooting for runners as they cross the finish line.
(PRWEB) October 08, 2014
The Sixth Annual Gingerbread Run 5k Presented by Aaron's, set for Saturday, November 8 at Give Kids The World (GKTW) Village in Kissimmee, Florida, is attracting record numbers of running enthusiasts and philanthropic contributors. New this year is the participation of Medieval Times, the popular dinner show that has one of its castles less than one mile from GKTW Village. With the assistance of the King, Queen and Knights of the Roundtable, the 5K race will start and finish at Medieval Times.
The race invites the public inside the whimsical 70-acre "storybook" resort to meet the families they are helping support. The professionally timed race will lead participants on a 3.1 mile path through a child's fantasyland, past an enchanted castle and a snoring tree, through magical bubbles and even by the world's largest CANDY LAND game where sweet treats are doled out by Queen Frostine and Princess Lolly.
"The Gingerbread Run 5k Presented by Aaron's brings people from all walks of life to experience firsthand the love and joy that permeate our Village," Pam Landwirth, GKTW president said. "It touches your heart to see our precious wish children and their families rooting for runners as they cross the finish line."
The family-friendly event will feature live music, a Zumba dance warm-up, a Kidz Zone with face painting, balloon animals and even a slime show by Nickelodeon. Characters including DreamWorks' Gingy, Nickelodeon's Dora The Explorer and SpongeBob SquarePants as well as Give Kids The World's Mayor Clayton, Ms. Merry and Murphy the Gingerbread Man will all be on hand to delight and encourage participants.
Last year's event raised over $165,000 and this year's goal is to generate $190,000 to benefit kids with life-threatening illnesses. More than 20 national and local corporations contributed in-kind or monetary donations including presenting sponsor Aaron's, as well as Nickelodeon Suites, Boston Market Corporation, Orange Lake Resorts, Regions Bank and many more. "Virtual runners" from around the world are encouraged to show their support of the organization by sponsoring a runner or making a donation online.
GKTW announced a fun social media campaign called "Traveling Murphy," in which friends and supporters are encouraged to take a selfie with a Murphy cut-out in their city and send it in. Hopefully, Murphy will be photographed in as many as 500 cities to get the word out that those who do not live in Central Florida can still participate in the Gingerbread Run 5K by being a "Virtual Runner."
For information on participating in or becoming a sponsor in this year's Gingerbread Run 5k, visit http://www.gingerbreadrun.org.
About Give Kids The World
Recognized as the highest rated charity in America by personal finance site MainStreet, and also reported by MSN Money, Give Kids The World Village (GKTW) is a 70-acre, non-profit resort in Central Florida that creates magical memories for children with life-threatening illnesses and their families. GKTW provides accommodations at its whimsical resort, donated attractions tickets, meals and more for a weeklong, cost-free fantasy vacation. With the help of many generous individuals, corporations and partnering wish-granting organizations, Give Kids The World has welcomed more than 132,000 families from all 50 states and 75 countries. For more information about GKTW and its mission, visit http://www.givekidstheworld.org.