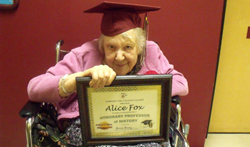 When she heard about the classes, long-time resident Alice Fox was first in line to sign up.
New Oxford, Pennsylvania (PRWEB) October 09, 2014
Two years ago Mary Van Buren, Director of Community Life at Cross Keys Village, hatched a plan in cooperation with the Gettysburg campus of HACC, Central Pennsylvania's Community College, with the ultimate goal of allowing some nursing home residents to attend college classes. When she heard about it, long-time resident Alice Fox was first in line to sign up. Once a teacher, she was determined to keep learning and keep her mind active.
Fox was one of two Cross Keys Village students in that first class two years ago, and she has taken part in every class possible since then. Because of the interest Fox and other students showed, HACC Professor Terrence Havel also has lectured on site at Cross Keys Village to large groups of enthusiastic Health Care residents.
Fox's contributions to that first class and her larger-than-life personality have made her a popular and valued figure on HACC's Gettysburg campus, and on October 7, she was honored with a dinner and an official designation as "Honorary Professor of History." Incredibly, this all took place on her 99th birthday.
The Pennsylvania native, who grew up in Somerset County and once taught in Germany, was given the opportunity to tell her life story to the sizable dinner audience, and many of her fellow students took the time to tell her what her participation in the classes and her example of living life to the fullest meant to them.
Fox is a regular participant in other Cross Keys Village activities – she took an overnight trip to Ocean City last year. She has lived on campus more than 30 years, longer than anyone else among more than 900 residents/villagers, and she has no intention of slowing down. Hers is but one example of how at Cross Keys Village, we see aging as an opportunity rather than a disability. This is part of our mission to enrich the lives of older adults.