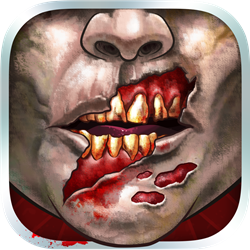 Brooklyn, NY (PRWEB) October 09, 2014
Just in time for Halloween, the zombie outbreak has gone mobile with Apptly's new app for iOS, Zombify, available now to download. The team that brought the world Wolfify and Vampify is at it again with Zombify which uses animated 3D face-morphing effects to transform selfies into full-blown biting, groaning and brain-eating ZOMBIES!
From dangling eyeballs and missing jaws to creepy creatures and bursting stitches, Zombify's sophisticated high-res effects are incredible, totally terrifying and wildly customizable. Utilizing Apptly's proprietary animation technology, the app transforms users' 2D photos into 3D zombies that come to life (or un-life) with unparalleled realism. Customization is key as users can choose from an array of decaying eye and mouth features, add weapons like cleavers or crossbow bolts, and even environmental effects and image filters to make their new zombie-self a true, one-of-a-kind creation.
In Zombify, becoming a zombie is just the beginning - once users are transformed into gruesome, man-eating abominations, it's time to spread the zombie love to the masses. This Halloween users can immerse themselves in the zombie apocalypse fantasy by sharing, a.k.a biting friends with either Zombified-photos or videos that showcase them in their full snapping and snarling glory. As they spread the undead, users earn "infections" every time friends download the app which can then be used to unlock premium items. Players can even see how they rank in number of "infections" globally and among friends through a Game Center leaderboard.
Try out Zombify on the app store this Halloween and be immersed in a post-apocalyptic world one selfie at a time. For more information and to hear more about Apptly, check out the blog here and download additional assets here.
About Apptly
At Apptly we live apps.
Our goal is to produce highly polished, engaging, and delightfully entertaining mobile content that combines amazing technology with a beautiful, and ruthlessly simple design aesthetic. Our debut series of entertainment apps has been a huge success and we couldn't be more proud to be building great content in an exceptionally exciting era for mobile software. For more information, check out http://www.appt.ly
Press Contact:
Melody Ann Pfeiffer
(415) 297-9590
melody(at)appt(dot)ly