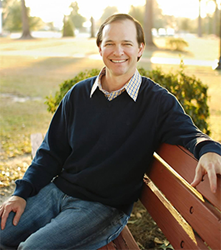 Savannah, GA (PRWEB) October 08, 2014
Dr. Justin Bordlemay, a periodontist in the Savannah, GA area, now offers his patients a cutting edge treatment for receding gums, known as the Chao Pinhole Surgical Technique (PST™). This procedure provides patients with an effective alternative to traditional gum recession treatments, such as gum grafting or pocket depth reduction. Dr. Bordlemay's patients typically face few restrictions or adverse effects after PST™.
During this minimally invasive procedure, Dr. Bordlemay directly corrects gum recession without causing any unnecessary damage to the gums. After making a tiny pinhole incision in the receding tissue, Dr. Bordlemay inserts a small tool through the hole and uses it to gently loosen the tissue. Eventually, Dr. Bordlemay can slide the gum tissue to a more natural position where it protects more of the teeth. After the procedure is complete, Dr. Bordlemay does not have to place any sutures, and the patient's risk of experiencing bleeding or discomfort is low. Like other minimally invasive procedures, PST™ also lowers the likelihood of complications such as infections developing later.
Many people may view receding gums as a purely cosmetic issue, but visiting a periodontist near Savannah, GA for receding gums treatment also offers important health benefits. Recession can cause sensitivity, and it leaves teeth poorly supported and exposed to damage or infection. In many cases, recession is an early sign of other oral health problems, such as periodontal disease. People who brush too aggressively, practice inconsistent oral hygiene habits, or grind their teeth may also experience gum recession. During a consultation regarding treatment for receding gums, Dr. Bordlemay can evaluate whether the recession is due to other health issues that should also be addressed.
Many people can prevent receding gums with proactive measures. These include eliminating tobacco use, visiting the dentist regularly, seeking treatment for tooth clenching or grinding, and practicing strong oral hygiene habits. Unfortunately, some people are at a higher risk for recession because of uncontrollable factors, such as genetics and hormone levels. This makes paying attention to changes in oral health important for all of Dr. Bordlemay's patients. People who suspect their gums are receding should call Dr. Bordlemay's office to set up a consultation with this leading periodontist in the Savannah, GA area before any other health complications develop.
About the Practice
Coastal Empire Periodontics is a periodontal practice providing personalized dental care for patients in Richmond Hill, GA. Dr. Justin Bordlemay received his DMD from the University of Pittsburgh in 2001. After dental school, Dr. Bordlemay served in the United States army as a general dentist for two years prior to entering into specialty training. In 2006, he received his certificate in periodontology from the Army Periodontics residency located at Fort Gordon, GA. Dr. Bordlemay is proud to bring state-of-the-art dental technology to his patients, including the LANAP® protocol. Only one percent of dental professionals in the country currently offer LANAP® treatment, the first FDA-cleared laser procedure for gum disease and periodontal treatment. To learn more about the dental services available at Coastal Empire Periodontics, please visit http://www.coastalempireperiodontics.com or call 912-225-5788.