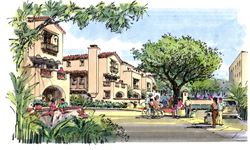 South Pasadena, CA (PRWEB) October 14, 2014
South Pasadena, ranked as one of the best places in the country to live and raise a family, is about to add an intimate enclave of homes rising on a 1.9-acre site at 820 Mission Street in the heart of downtown South Pasadena. It is just steps from the Metro Gold Line light-rail Mission Station. The mixed-used EightTwenty project will include 38 residential units consisting of condominiums, lofts and townhomes plus 3,500 square feet of office space, a 6,000 square foot central park and a 3,000 square foot courtyard paseo.
Developed by Intracorp Companies, an award-winning West Coast Urban Developer, EightTwenty includes three focal segments: a mix of 2-story condos and single story flats on a podium above a level of subterranean parking, with 3,500 square feet of office space fronting Mission Street. The adaptive reuse of an existing three-story 1940's poured-in place concrete building offers a mix of stacked flats and two-story townhomes (some with private rooftop terrace), and on-grade townhomes with private raised stoops along the northern portion of the site, fronting Magnolia Street. At the core of the development is a public green space surrounding a 60+year-old Chinese Pistache tree.
The two- and three-bedroom flats and townhomes range from 1,148 to 1,932 square feet, and the two and three bedroom stacked flats and townhomes measure 1,601 to 2,222 square feet. New construction reflects Spanish Revival architectural details that pay homage to South Pasadena's history, while the 1940's building maintains its original minimalist concrete façade. The whole EightTwenty site is designed to seamlessly blend into the fabric of the neighborhood.
South Pasadena is less than 10 miles from downtown Los Angeles, but is truly is a world apart when it comes to safety, education and the general atmosphere. It was named as one of the 24 best places to live and work in 2014 by Sunset Magazine, boasting a walk score of 95. Parents are drawn by the highly desirable South Pasadena Unified School District, and the project offers residents a range of desirable amenities in a uniquely community-focused setting. For more information on the full scope of the EightTwenty project, go to http://www.820mission.com.
The project developer, Intracorp is a multi award-winning, west coast developer that excels in seamlessly leveraging the charm, beauty and history of established neighborhoods with elegant appointments and architectural details that reflect and enhance the community's historical integrity. Their commitment to excellence has resulted in numerous recognitions including a recent Gold Nugget Grand Award for "Best Multifamily Housing Projects."
http://www.IntracorpCompanies.com