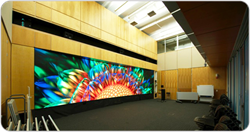 The modular display technology that can be configured into nearly any shape and size to create a gorgeous digital canvas.
Cypress, California (PRWEB) October 22, 2014
Christie® MicroTiles® are serving as a valuable learning tool at Stanford University in Stanford, California. Using a frame designed by rp Visuals, the approximately 1,440 square foot (32-units wide by 6-units tall) Christie MicroTiles wall is installed two feet off the ground in a Wallenberg Hall classroom and spans nearly the entire width of the room. The teaching space hosts journalism and social sciences, among other classes – as well as special events such as Election Night.
Moving from three projectors to multiple presentation possibilities using Christie MicroTiles
Opened in 2002, the Wallenberg Foundation decided it was time for a refresh, which included replacing the old projectors in the 60-seat theater with Christie MicroTiles. According to Bob Smith, Director of Technology Services, Office of the Registrar, the front row was often vacant because it provided a poor view and if the seats were filled, those audience members cast shadows on the screen.
This isn't Stanford's first experience with the technology: two years ago, a Christie MicroTiles video wall was installed in the Visitors Center. "From that installation, I knew the MicroTiles were gorgeous; they're so rich, and they're linear all the way down into the blacks. They're just really beautiful things," said Smith.
For this room, they needed the highest possible resolution combined with the ability to have multiple presentations running simultaneously in a variety of configurations.
Smith said the MicroTiles also allow people to sit closer to the screen and "allow us to flexibly adjust the visual rhetoric of the screen, making important things bigger, less critical things smaller, bringing things to the center, and moving other things to the side."
Using Christie MicroTiles during 2012 American Presidential election
An early use of the MicroTiles was November 6, 2012 when the space served as a working newsroom for journalism students covering the election with the MicroTiles displaying multiple feeds simultaneously.
"What you saw there was a sort of mission control application where there were seven different screens up there – including CNN – two local channels with picture-in-picture and closed captioning, the New York Times webpage, a Google© analytics page, one person editing video and another sorting still images," said Smith.
"It was the apotheosis of a group work scenario. There was information that was common to everyone in the room spread across the top of the screen. And, at the same time, people who needed some smaller group sharing the space or just a larger display area were working in very close to the screen but down low and using the MicroTiles as an extension of their laptop. That was a really fun, early use of the space."
Christie MicroTiles expand teaching possibilities
Smith said each class uses the wall in a different way, adding, "The result is that the MicroTiles have basically allowed us to take classroom visualization to a much higher level, with a much higher level of flexibility.
"You've got something (Christie MicroTiles) that is tremendously capable and very exciting with what the possibilities are. That would largely go to waste if you have to go to a 2-day seminar to learn how to operate them and become certified. The whole name of the game was to make it so anyone can walk in and operate it quickly."
With a much wider color palette than conventional LCD displays, Christie MicroTiles display clean, saturated, lifelike colors. The modular display technology can be configured into nearly any shape and size to create a gorgeous digital canvas.
About Christie
Christie Digital Systems USA, Inc. is a global visual technologies company and is a wholly-owned subsidiary of Ushio, Inc., Japan. Consistently setting the standards by being the first to market some of the world's most advanced projectors and complete system displays, Christie is recognized as one of the most innovative visual technology companies in the world. From retail displays to Hollywood, mission critical command centers to classrooms and training simulators, Christie display solutions and projectors capture the attention of audiences around the world with dynamic and stunning images. Visit http://www.christiedigital.com.
Follow us:
Facebook.com/christiedigital
Twitter.com/christiedigital
@christiedigital
"Christie" is a trademark of Christie Digital Systems USA, Inc., registered in the United States of America and certain other countries.
Christie® MicroTiles® is a registered trademark of Christie Digital Systems USA, Inc.
© 2014 Google Inc. All rights reserved. Google and the Google Logo are registered trademarks of Google Inc.