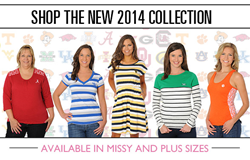 UG Apparel is proud to help support the community and looks forward to helping advance education in Chicago
(PRWEB) October 10, 2014
University Girls Apparel (UG Apparel) is a women's collegiate clothing brand that was first launched in 2011 by founder and owner Nesha Sanghavi. University Girls Apparel started in Charleston, West Virginia, and has expanded by adding an office in Chicago, Illinois.
UG Apparel is looking to better serve their customers and make ties in the community, especially in the Chicago area. UG Apparel has already partnered with small businesses in the area, and is now moving forward to help out in the community by sponsoring Chicago Lights' event this fall.
Founded in 2004, Chicago Lights is a non-profit outreach program that helps bring education to Chicago's youth. The charity is hosting a philanthropic gala in early November titled GLOW at the Museum of Contemporary Art Chicago. For more information about GLOW and the other programs offered by Chicago Lights, please visit chicagolights.org. UG Apparel is proud to help support the community and looks forward to helping advance education in Chicago. For more about UG Apparel you can visit them at ugapparel.com.