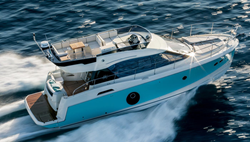 We are very excited about the Ft. Lauderdale boat show – not only because it is one of the largest and most prestigious boat shows in the world, but also because we have a world-class dealership by our side to show off our line of powerboats
Ft. Lauderdale, FL (PRWEB) October 09, 2014
Beneteau America is announcing the debut of the Monte Carlo 4 at the 55thannual Ft. Lauderdale International Boat Show starting October 30th. Continuing their increased presence at boat shows throughout the Americas, Beneteau will be showcasing eight powerboats ranging from 35 to 50 feet in Fort Lauderdale.
Over the past 4 years, Beneteau has steadily stepped up its footprint at the Fort Lauderdale boat show, from 2 powerboats in 2010 to 8 today. The increased presence is a direct result of product demand, but also of Beneteau's conscious effort to continuously invest and introduce new products to the public. This certainly bodes well with Beneteau's authorized dealer for the East Coast of Florida, Denison Yacht Sales who just won the award of "Best Turnover in Beneteau Powerboats" at Beneteau's annual Dealers Meeting earlier this year. It is the first time an American dealership has won this international recognition, making Denison Yacht Sales one of the largest powerboat dealers for Beneteau in the world.
"We are very excited about the Ft. Lauderdale boat show – not only because it is one of the largest and most prestigious boat shows in the world, but also because we have a world-class dealership by our side to show off our line of powerboats," said Maryline O'Shea, marketing director for Beneteau America. "We have seen very encouraging results from shows in the North East and on the West Coast earlier this month. We now anticipate strong sales numbers in Ft. Lauderdale; in fact this show usually signifies the half-way point in our order book for the year."
Beneteau has become a must-see exhibit at the Fort Lauderdale boat show and is expected to grow in popularity this year with even more boats to explore and buy:
Monte Carlo 4:–Making its Ft. Lauderdale Boat Show Debut! Beneteau's newest design, the MC4, bridges the gap between Beneteau's existing powerboat lines and Monte Carlo Yachts. The combination of Italian design and French boat building has created a stunning yacht that is sure to outshine all other yachts in her class. Beneteau has dramatically increased the quality of design and build in this model. Features include a large glass door that opens between the cockpit and the interior, creating one large indoor-outdoor living space; a full amidships galley; oversized salon windows for 360-degree water views and two below-deck cabins with en-suite heads. She is truly a must see.
Monte Carlo 5: Awarded European Powerboat of the Year 2014in the "Motorboats over 45ft" category, the MC5 is a yacht with a unique concept, endowed with innovative solutions originating from Beneteau's industrial expertise and the incomparable style of Monte Carlo Yachts.
Gran Turismo 35: Further exploring the day boat concept, the Gran Turismo 35 was designed to maximize enjoyment topside, with generous living space in the cockpit and a huge swim platform, making it the ideal vessel for the outdoor lifestyle. Her cockpit galley further enhances life on deck while the renowned Beneteau finishing touches guarantee indoor comfort.
The Beneteau-patented AirStep® hull design associated with Stern Drive propulsion offers a more comfortable and stable ride, better safety and superior performance.
Gran Turismo38: Modern and innovative design, high-performance, luminosity and comfort on board, as well as superior performance and easy handling thanks to the Beneteau-patented AirStep® hull design.
Gran Turismo 49 HT: The world of luxury dominates the 49 with layout choices of 2- or 3-cabins, the 49 takes full advantage of the different levels of living spaces with impeccable flow. Thought of in terms of modern architecture, it favors conviviality and superior comfort, and makes the perfect live-aboard thanks to top-notch amenities and equipment, just like at home!
Swift Trawler 34: Of attractive proportions, with a very sea-worthy hull, and plenty of living space, the proven Swift Trawler 34 is designed for the ocean and life at anchor. Her size and clever features make the Swift Trawler 34 very easy to handle, solo or as a couple.
Swift Trawler 44: Built for long-distance cruising, the Swift Trawler 44 is a boat with endless possibilities, while offering the best fuel efficiency in her class. She is at home on all waters and promises to make each destination an unforgettable one.
Swift Trawler 50: Resulting from a renewed collaboration between the Beneteau motorboat design office, the architect, Michel Joubert and the designer Pierre Frutschi, this new Swift Trawler retains the features that were the success of its predecessors, while offering some amazing innovations.
Modernized silhouette that emphasizes a very fluid flybridge line, hull specifically designed for the choice of IPS engine (2 IPS 600), the Swift Trawler 50 also marks a significant development in the adaptation to the various ways of sailing and living on board.
About Beneteau America
Beneteau is known worldwide for its sleek design, quality construction and innovation in the manufacturing of seaworthy sailing and power yachts. The Beneteau story began 130 years ago when Benjamin Bénéteau started building fishing trawlers in Saint-Gilles-Croix-de-Vie, France. Today, the company continues to thrive under the leadership of Benjamin Bénéteau's granddaughter, Madame Annette Bénéteau-Roux. Beneteau has manufacturing facilities in France, Brazil and the United States.