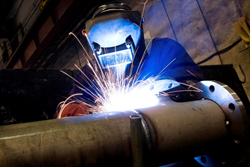 Kilgore's history..has produced a skill set that transfers well into metal fabrication.
Kilgore, Texas (PRWEB) October 20, 2014
Increasingly, companies are taking a long, hard look at the quality and quantity of a workforce in deciding where to do business. And while the Texas Miracle has attracted the attention of employers across the country and the globe, a corner of Texas, east of Dallas, is quietly outperforming the state in a number of important ways.
The East Texas business climate will be showcased in Atlanta November 11-13 at the Fabtech Expo. FABTECH brings together an anticipated 27,000 attendees and 1,400 exhibiting companies all under one roof. The event provides presentations on the latest industry trends and technology in the metal forming, fabricating, welding and finishing industries.
After healthcare, the largest employment by industry in Kilgore is manufacturing. More than 20% of the workforce is employed in the goods producing sector, and employment is concentrated in four industries: fabricated metal products, primary metals, machinery and chemicals. A look at occupational strengths shows an advantageous numbers of skilled welders, machinists and production workers as well as machine operators.
Those same goods producing sectors account for only 9% of the workforce in Texas as a whole.
"Kilgore's history as a major energy center has produced a skill set that transfers well into other metal fabrication applications," said Bo Steding, managing partner for DRILLTOOLs, which manufactures machinery for heavy civil construction.
Several other companies in Kilgore are in the metal fabrication business and include those that fabricate pressure vessels and satellite antennae for the defense industry. General Dynamics SATCOM Technologies purchased the locally grown Vertex and now employs 550 in Kilgore.
Almost 350,000 workers are available to Kilgore employers from 12 counties within a 60 mile radius. In addition, the county's labor force participation rate of 70.3 percent – a ratio showing the portion of the population age 16 years and over that is employed or looking for work – was well above that of the state (64.0 percent) and the US (62.4 percent).
In addition to having an exceptional workforce, the Kilgore business climate supports success in other areas.
A 78,000 SF multi-tenant facility in Synergy Park presents 35,000 SF available for lease. The space has 6" floors and 30' ceilings with triple phase power at 900 amps.
American Electric Power serves Kilgore with regulated industrial electric rates that are 60.5% less than the national average and 16% less than the average in Texas.
Kilgore leaders have adopted several beneficial tax policies such as property tax abatements and a triple Freeport tax exemption on inventory along with sales and use tax refunds and exemptions on personal property, electricity and natural gas.
Kilgore was also the first foreign-trade zone in the United States to earn an Alternate Site Framework designation.
Incentive reimbursements are a part of the Kilgore business climate as well. Like a finely-tuned sports car, direct incentives from Kilgore Economic Development Corp. are responsive to your needs. The money is under flexible, local control, and decisions are quick. KEDC also provides access to Texas incentives such as the Texas Enterprise Fund, the largest deal closing fund in the country. To learn more about Kilgore and KEDC direct incentives contact Amanda Nobles at (903) 983-3522 or anobles(at)kilgore-edc(dot)com.
About Kilgore EDC: Kilgore Economic Development Corporation is an organization founded in 1990 and funded by a dedicated sales tax approved by voters. It is directed by a five-person board and managed by a staff of four with certifications in business retention and expansion, economic and community development and economic development finance. KEDC has won international awards for excellence in economic development.